Summertime in the Keys!
Ahhhh it's summer. Lazy days spent in the water (yes, we spend them IN the water here), cold drinks, sunsets, & swinging in the hammock. Are you thinking about coming to the Florida Keys this summer and wondering what it's like this time of year? Well, it's hot & humid. Very hot. And the sun is intense. You really don't want to be in direct sun if you can avoid it. To give you an idea, the "feels like" temperature is generally over 90 by 10am and over 100 in the afternoon. This applies everyday June through September. There are no "heatwaves" here, summer is itself a giant heatwave.
Summer has always been my favorite season. Now that I live in the Keys I have every version of summer all year round.  In the winter, I have a New England summer – warm and sunny during the day and slightly chilly at night. Spring and fall bring a Virginia like summer and summer here is life on a tropical island.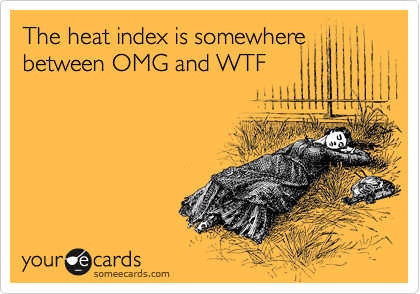 So, what's to love about the Keys in the summer?
Summer diving! Absolutely my favorite thing about living in the Keys. There's nothing better than summer diving here! If you're a diver and you haven't come down to dive during the summer yet, what are you waiting for? Warm ocean temps (it's 86 today), no wetsuits, less wind than the winter (we call it "Lake Atlantic"), great visibility and abundant sea life. We dive every weekend in the summer. Come on down!
Thunderstorms – I've never lived anywhere with such awesome thunderstorms! Almost every night comes with a beautiful lightning display! I could live without the early morning thunderstorms that shake our entire house though. My dogs most definitely agree.
Summer sunsets – After over a year in the Keys I'm now a connoisseur of sunsets. Summer sunsets go on forever and are often accompanied by thunderheads. I love watching a gorgeous sunset bordered by lightning.

Hot nights – Once the sun goes down the temperature is just perfect. You'll never be cold or need long sleeves at night in the summer here and I love that.
Perfect mornings – Tropical mornings are the best. They are warm and the air is heavy with humidity. You can tell the day will be blazing hot but in this moment it's perfect.
What do you love about summer where you live?
Until next time … 
Stay warm!