Utila – Some Restaurant Suggestions
So you just got on the island and you're starving from a long day of travel, what's good?  A lot of places close for a couple of hours between lunch & dinner, if you've arrived at this time (as we did) your choices will be somewhat limited. You might want to pop into Bush's for a granola bar and wait for everything to open back up for dinner.
Quick Bite Deli – how does a giant baleada sound when you're starving from the morning's dives? And, they're only $2 (for the veggie)!  This is on the main road as you go toward the bridge, a couple of blocks past Bush's. We had lunch here at least 3 times. Nothing fancy but good, fast, filling & cheap. Nap time soon followed 🙂 No pic of this one since we never had a camera with us.
Jade Seahorse (B-Leaf) – the whole place is a work of art & filled with decorations and trinkets. I wish we had gone during the day to get the full experience, next time! This place is off the main road a few blocks. There's a bar upstairs in the treetops called "Treetanic", a great place to grab a drink before or after dinner. You can buy drinks there too and carry them down to the restaurant if you want to.
The restaurant is 100% vegetarian. We had the basil noodles, they were just okay. I wouldn't order them again.  But the red curry was AMAZING. Spicy and wonderful, served with a nutty brown/wild rice. I'd go back for the curry, that's for sure. The rest of the menu looked great too, I wish we had time to visit them again.  I think it's only open for dinner & was comparatively expensive but definitely worth it!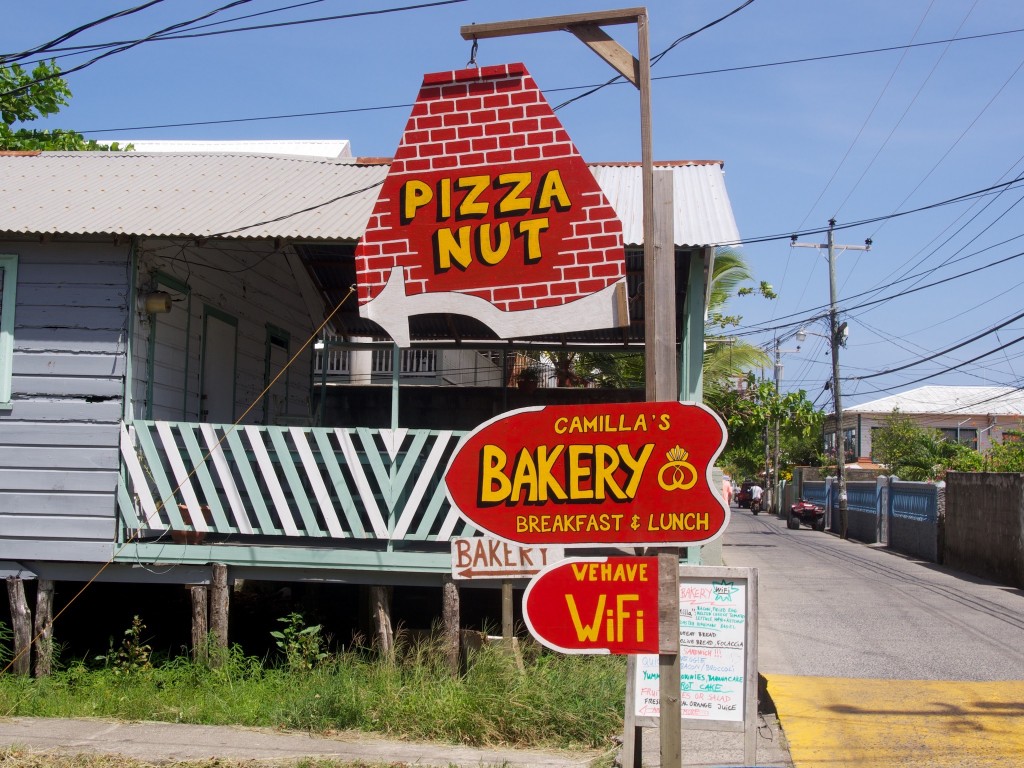 Camilla's Bakery & Pizza Nut – on the main road just past Mermaid's as you're heading toward the bridge. Don't be deterred by the unkempt vacant lot in front, it's owned by someone else who doesn't care for it. They make fresh baked breads & bagels daily. There was also a variety of quiches and homemade desserts. We bought bread and bagels here everyday and ate them for breakfast before heading out to dive. They also made a great veggie sandwich for lunch which was around 140lps. Fresh bread, crisp veggies & cheese, so good after diving all morning. Every night from 5:00-9:00 it becomes Pizza Nut, this is the place for very thin crust pizza which is our favorite. There's a different pizza on special each night too.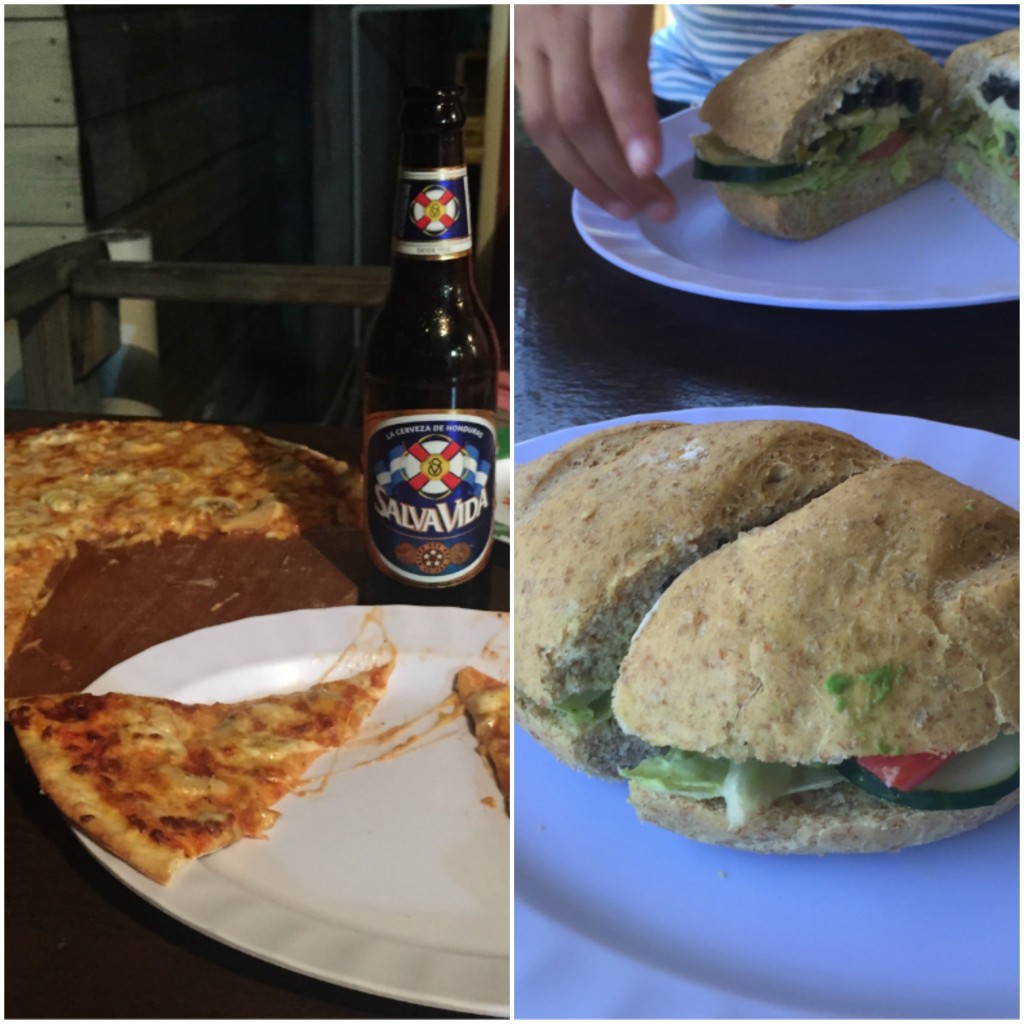 Paya Papaya – on the main road above "Hotel Utila". A vegan restaurant that cares about the island's health and supports local farmers, buying locally produced goods whenever possible. They are committed to the environment and strive to produce as little trash as possible. The bowls and plates are island grown banana leaves & are fully compostable. We only made it here once since they're closed a couple of days a week and again sans camera. But you should definitely go and support them! We had the quinoa burger and the tamarind fried rice, both were amazing! They brought us complimentary fruit for dessert with local honey and bee pollen. We fully support their vision and wish them all the success in the world! The menu is limited since the ingredients are fresh and everything is made to order. The night we went all dinner options were 220lps.
Rehab Bar – near Chepas beach. We didn't eat here but it was a great place for evening drinks. The beer is ice cold and we enjoyed watching the Pelicans hunt for fish. Since the bar is out over the water they come pretty close.
UltraLight Cafe – I didn't expect to find Israeli food on Utila so this was a great surprise! The food was delicious. Homemade pita bread, hummus and falafel. Highly recommended. Everything is made fresh to order.
La Piccola – great place for a date night! Terrific food with a great atmosphere. It's on the 2nd floor of the building across the street from Foo King Wok (heard they have great Chinese but we never made it there).  We came here twice, once to celebrate completing our rescue course and again on our last night. The gnocchi and raviolis are all homemade and are served with your choice of sauce. The gnocchi with gorgozola walnut sauce was amazing! The food takes a little time, it's homemade after all, so order up some wine, sit by the rail and watch the world go by.
Trudy's – under the hotel Trudy near Underwater Vision. We had breakfast here twice. The baleada was best thing we ordered but expensive at 120lps. The real draw here is the view and the coffee! This was the best coffee we had all week (we didn't make it to Rio Coco).
Have a favorite restaurant in Utila that I didn't mention? Leave it in the comments.
It's 8am and about 85 degrees here, now we're talkin' 🙂  Enjoy your weekend!
Warm thoughts to all!