Utila – Diving with Alton's Dive Center (Rescue/EFR Course)
Now for my most important post about Utila, the DIVING!!! If you're planning a trip to Utila, picking a shop to dive with can feel pretty daunting with all of the choices on the island. Every shop is unique with its own vibe & personality so it's important to get this right. After a lot of online research we chose Alton's & it was the perfect fit for us. We were greeted with a warm welcome, introduced to our instructor and immediately invited on a booze cruise. We're hoping to dive with them again someday soon!
We went to Utila with two main diving goals: to get our Rescue & EFR certifications and to get some fun diving in. Booking the class was a breeze. The dive shop manager Steve was extremely responsive over email & we were booked and ready to go after a few emails back and forth. We decided to do the class first, fun diving second. Great choice. The rescue course is demanding and the first fun dive after completing it was ridiculously relaxing.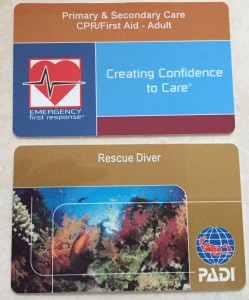 The PADI Rescue Diver certification is the last recreational level certification, the next step is Dive Master which is the first of the professional certifications. Our instructor for this course was Shelley and we clicked with her immediately.
I won't bore you with the gory details of the class but one of the skills you have to master is implementing search patterns. Alton's uses Marvin as their missing diver. Marvin's a milk jug with a face drawn on it and weights attached. You'll practice everything in the bay first then open water the following day. While we were searching for Marvin in the bay our instructor Shelley started banging her tank. If you've taken any dive classes you know this means the instructor wants your attention, ooops! we must have messed up. We swam over to Shelley to learn about what went wrong when she showed us Alton's resident seahorse! It doesn't have a name yet, but it was free swimming across the bottom. Seahorses are one of my absolute favorite animals and I've only seen a few, what a treat! This made my day! He certainly picked a challenging home with all the divers practicing there every day. Good luck little one!
Day two was our open water search & rescue and the infamous 'hell' dive. From the time they start loading up the boat until it returns you must be ready for anything! The ocean was pretty rough that day which added to the demand of the course. First we did our open water search and rescue, it was A LOT of work getting the diver back to and onto the boat in rough seas but we both succeeded. Half way there!
Then it was off to the hell dive. We had two divers to keep track of and they were troublemakers. Touching things, rapidly ascending/descending & experiencing equipment issues such as mask floods, etc that you need to help them resolve. Couple those issues with a little bit of panicking by your charges and you get the idea. In addition to that, an instructor from another group came over signaling he was out of air – he was unexpected! They did say to expect anything! We completed the dive & I've never so happy to be on a safety stop, I'm usually sad the dive is over but I was glad for the break. Of course our divers were too tired to swim to the boat so they needed a tow.  🙂
When we pulled up at the dock someone fell off the boat and needed to be saved, we should have known it wasn't quite over yet! Thanks for a great class Shelley! We both learned a lot and are definitely more confident divers! That night we passed out promptly at 8:00, it might have even been earlier.
The EFR class is less exciting, but John was a great instructor and we learned a lot. So a shout out to John too, thank you! He was also the unexpected diver out of air on the 'hell' dive.
The rest of the week we were fun diving every day on the morning boat. The dives were very well organized with thorough briefs and a good division of divers by skills into groups. We had a great time diving with Karl, Beto and all of the DMTs. Surface intervals were spent looking for whale sharks but we weren't lucky enough to see one this time around. That's okay, it gives us a reason to go back a little earlier in the season.
We had an awesome time with Alton's! Check them out if you're heading to Utila!
We can't wait to be back underwater …. let the countdown to the next dive excursion officially begin: Key Largo in 77 days! Could Key Largo be the place? It's 100% a research trip with a side of diving. We hadn't considered staying in the country but we're open to everything.
Warm thoughts to all!