The OBX!
I said in a previous post that we've never returned anywhere except Roatan and that was an outright lie! We spend at least a week every year in the Outer Banks of North Carolina (OBX to locals and frequent visitors). The reason that was such an easy omission isn't because I don't love and look forward to our time there but because it feels more like a 2nd home than a vacation. I've been going there for the past 10 years and my half for his entire life.
I'm from New England and the OBX is to the Mid-Atlantic what Cape Cod is to New England. It's just far enough away that it takes some packing and planning but not so much that it's a chore. Both destinations have a similar welcome too. They're connected to the mainland by bridges & I have the same feeling driving over the Wright Memorial Bridge as I did going over the Bourne Bridge. Once you reach the other side of either one, everything changes…the vibe is completely different and it signals your brain to relax, you're on vacation!
To me, the best part about visiting the same place over and over is that there are no expectations for it. For the past 9 years we've been staying in the exact same place on the same week. We've been there done that so to speak but in the best possible way. We're free to completely disconnect & relax without feeling like we're missing out on something. It also allows us to focus on our favorite spots if we feel like doing anything which sometimes we don't. Some years we barely move our car & that's more than okay.
If you find yourself in the OBX here's a hit list of our favorite things to do & places to eat. Enjoy!
Things to Do
Nags Head Wood Preserve – This is a great place to connect with nature and get away from the crowds. If you go during the summer, bring bug spray and go early or late as it gets pretty steamy in there. There are trails of varying lengths to suit your mood and energy (a.k.a motivation) levels.
Cape Hatteras National Seashore – Pack a lunch and spend the day on a deserted stretch of beach. The water along this beach is often a gorgeous green/blue and very clear due to the proximity of the gulf stream. A great place for a long walk & some quiet time. Watch for the marked dune crossings along the road with bright flags to access the beach. The dunes are delicate & play a very important role so it's important to cross only in designated areas.
Pea Island National Wildlife Refuge – Pea Island is part of Alligator River but it's not nearly as far to get to and can be a quick stop off on your way to/from the Cape Hatteras beaches. There's a short nature trail through the marshy wetlands & it's a great place to see migrating birds passing through the area. Stand on the little bridge in the beginning for a few minutes to see a gathering of turtles including a lot of snapping turtles! I've never seen so many snappers in one place anywhere else.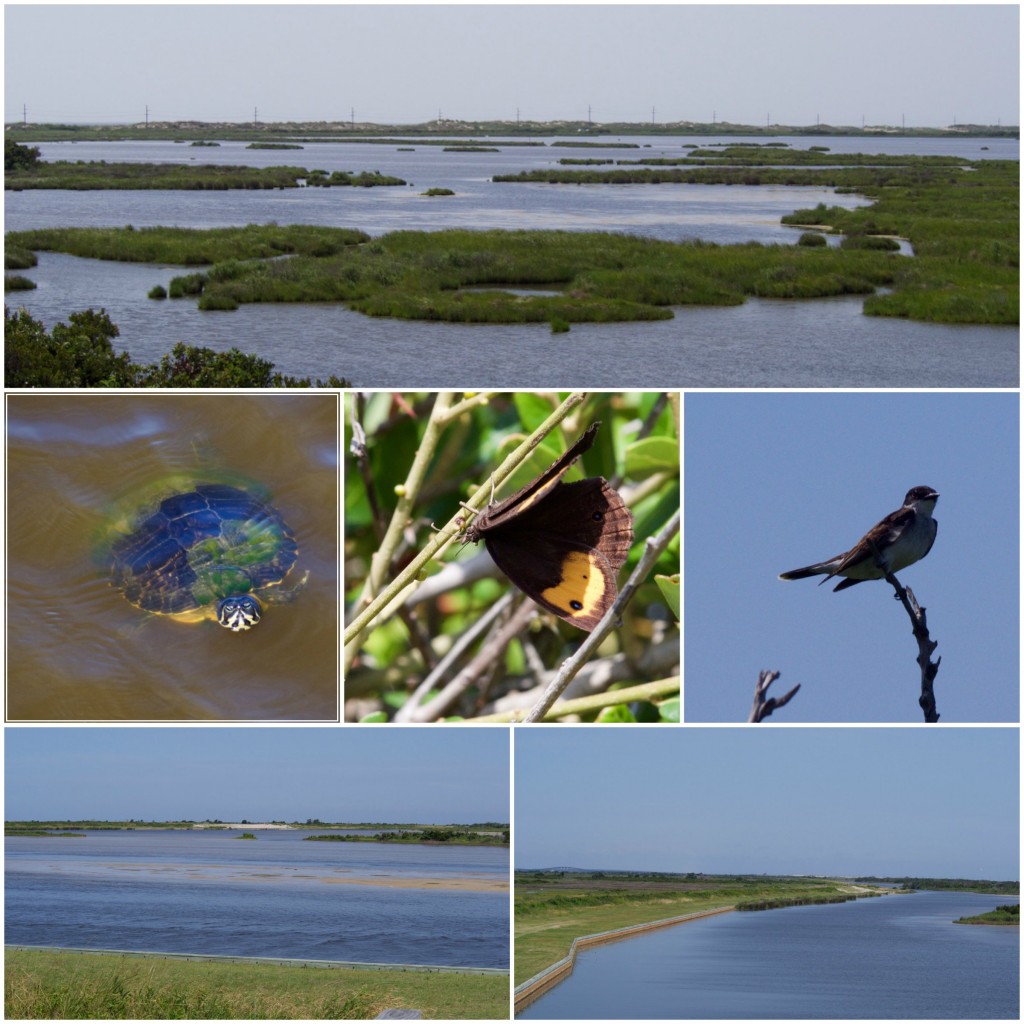 Alligator River National Wildlife Refuge – This you'll want to make a day of. A gorgeous park with varied wildlife including alligators! It's currently the northernmost reach of their range so gators here are on the smaller side. There are kayak trips available that will put you face-to-face with them if you're feeling adventurous. It's also a great place for bird watching and bear spotting. Definitely a must-visit for nature and wildlife lovers.
The town of Manteo – We love the little town of Manteo. A trip here is a great way to spend an afternoon. Park your car in one of the many free public places and enjoy meandering through the town and streets. The streets around town are filled with gorgeous old homes & bed and breakfasts all with exceptional landscaping (we're garden dorks so we enjoy checking them out). In the main town you'll find unique shops and restaurants including the Full Moon Cafe mentioned below. Don't leave without going over the bridge and walking along the sound on the path bordering Festival Island Park. Check out Endless Possibilities for weaved products for a great cause.
Every beach, any time – all of the OBX beaches are gorgeous. You can't go wrong. Here's a series of a bird hunting a fish, fighting off competitors & coming out victorious. I hope he/she got to enjoy the fish!
Places to Eat & Hangout
Everyone who knows us knows that we like to hang out, shoot the sh$t over a few beers and eat good food. We usually stick to casual places but every now and then we like to go to a fancy dinner. During our OBX time, we generally stick to casual places with outside areas and live music. Here's a list of our favorites.
Outer Banks Brewing Station – This place has it all! Great food, progressive beers, outside space and live music inside and out. The outside area is fully fenced in and has something for everyone. Corn hole boards for the adults, a pirate ship play area for the kids, picnic tables & an outside bar. It's also the first wind powered brewery in the US and the first OBX business to take advantage of wind power. The OBX is blessed with very steady winds making it a great place for a turbine. Don't miss this place if you come to town.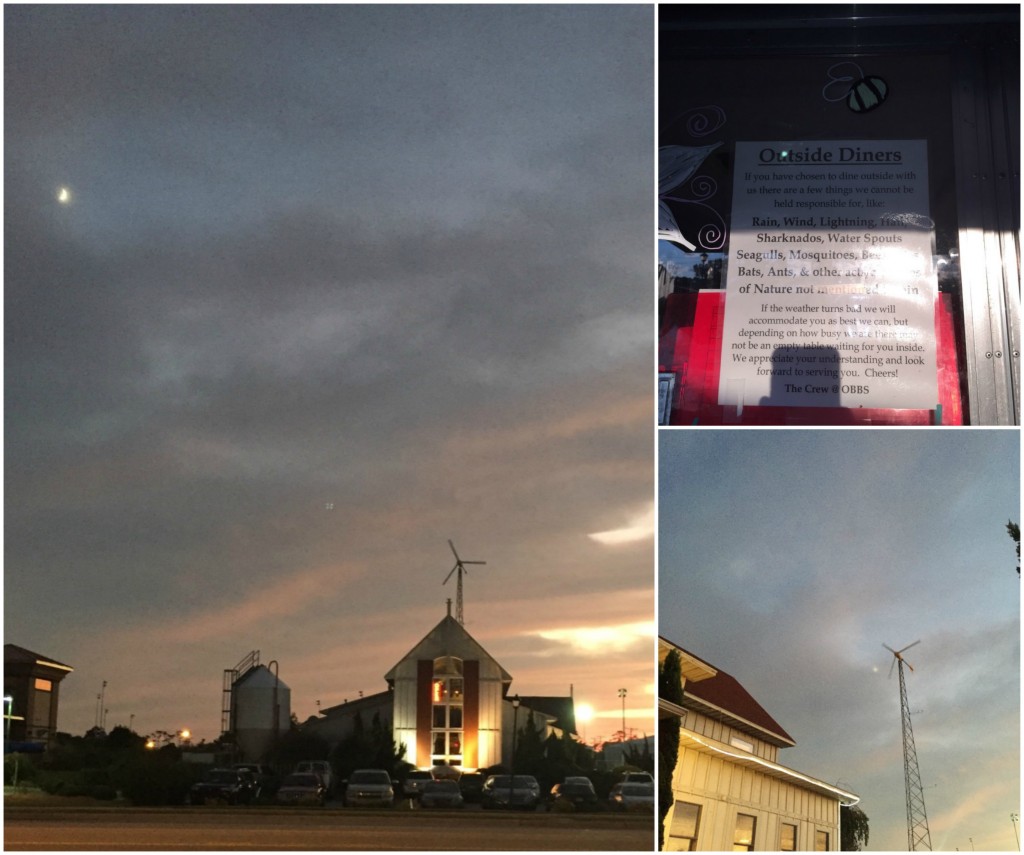 Rundown Cafe – Another one of our favorites. The menu is interesting & varied and the place has a great vibe without being kitschy. I think the cold sesame noodles might be my current favorite but you can't go wrong here. There's a nice view from their 2nd floor deck and live music almost every night of the week. If it's too cold to sit outside the tables on the beach side of the bar also have a nice view. Bring some quarters to feed the fish on your way out.
Ocean Boulevard – That fancy dinner I mentioned above? This would be the place for that. They have their standard menu, nightly specials and a vegetarian menu. They also make a mean martini (love the blue cheese stuffed olives) and there's outside seating and live music. We apparently only captured pics of the drinks but the food was amazing as well. A great place for a date!
Full Moon Cafe & Brewery – Right in downtown Manteo it's the perfect place for a lingering lunch. We've never sat inside, outside on the patio is the place to be here. If you're visiting in the middle of summer consider a late lunch after the high heat of the day has passed. My favorite part about lunch at the Full Moon is sipping one of their brews & people watching from a table on the patio or even better, the elevated two tops by the bar. All of the food here is good and there's something for everyone and every mood.
Bad Bean – A casual place tucked into the corner of a strip mall with a laid back vibe and great tacos! Also a good place to watch a game and enjoy some local beers.
Chili Peppers – Another casual place with good food. We always stop for brunch here on our way out of town. If you go, consider bringing home some of their spicy salt, it's AMAZING on everything! Another great place to catch a game.
Josephine's Sicilian Kitchen – Don't let the little strip mall location fool you! It's beautifully decorated on the inside & very cozy. The food and service are top notch. It's a date worthy place if you're in the mood for Italian. It's somewhat small and very popular so be prepared to grab a drink at the bar while you wait for a table. The menu is also limited to a few offerings – check it as soon as you get there to make sure there's something you like on it especially if you have any restrictions.
That's it for our OBX tips! This list is in no way exhaustive of what the OBX has to offer but it does encompass our favorites. When we're not at work, we like to be outside in nature as much as possible and the OBX is a great place to do that!
I hope you're all enjoying the unique nature around your home town!
Warm thoughts to all!