The Bars of Bloodline
Season 3 of Bloodline will be out this Friday and we can't wait to see what the Rayburn family will get into next! We've been rewatching seasons 1 & 2 to get ready for it and now that we've been here a while we recognize just about everywhere they're filming. I guess that's what happens when you live on a tiny chain of islands connected by a single road! I thought it'd be fun to create a bar crawl & sightseeing tour for all of my fellow Bloodline fans out there! I hope you like it!
Let's hope season 3 finds the Rayburn's (especially Kevin) making better choices!
Let's work north to south since that's the way most people arrive in the keys. Don't forget to enjoy the gorgeous views from the bridges on the drive! Have a great time!
Here we go!
**Disclaimer** always have a designated driver, drink responsibly, make good choices, and all that good stuff 🙂 
On your way to the keys, take Card Sound Rd. ($1 cash only toll) instead of the 18 mile stretch for our first stop.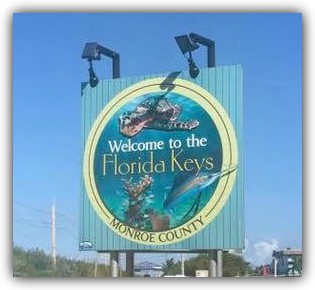 Alabama Jack's – you can kill two birds with one stone here. This place is featured in the very first episode where Danny orders the fish tacos and complains the fish isn't fresh. Don't get the tacos though, they're known for their conch fritters. Enjoy them with a cold beer and the gorgeous view of the mangroves.

Bonus

: the little shack in the parking lot is dressed up as the place to buy bus tickets on the show.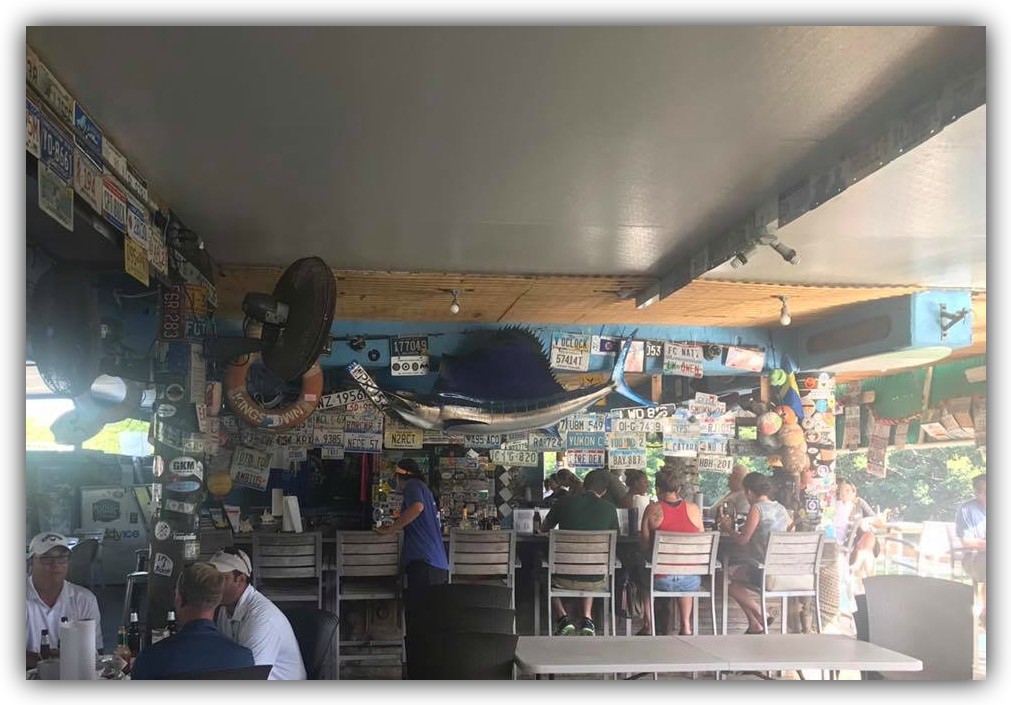 About 20 minutes down US 1 is our next stop….
The Caribbean Club – this dive bar makes a few appearances on the show. It's a local hangout for sure. We like to take our beers out back for sunset. Our dogs love it there too! Cash only (there's an ATM inside). Also where the old movie "Key Largo" was filmed.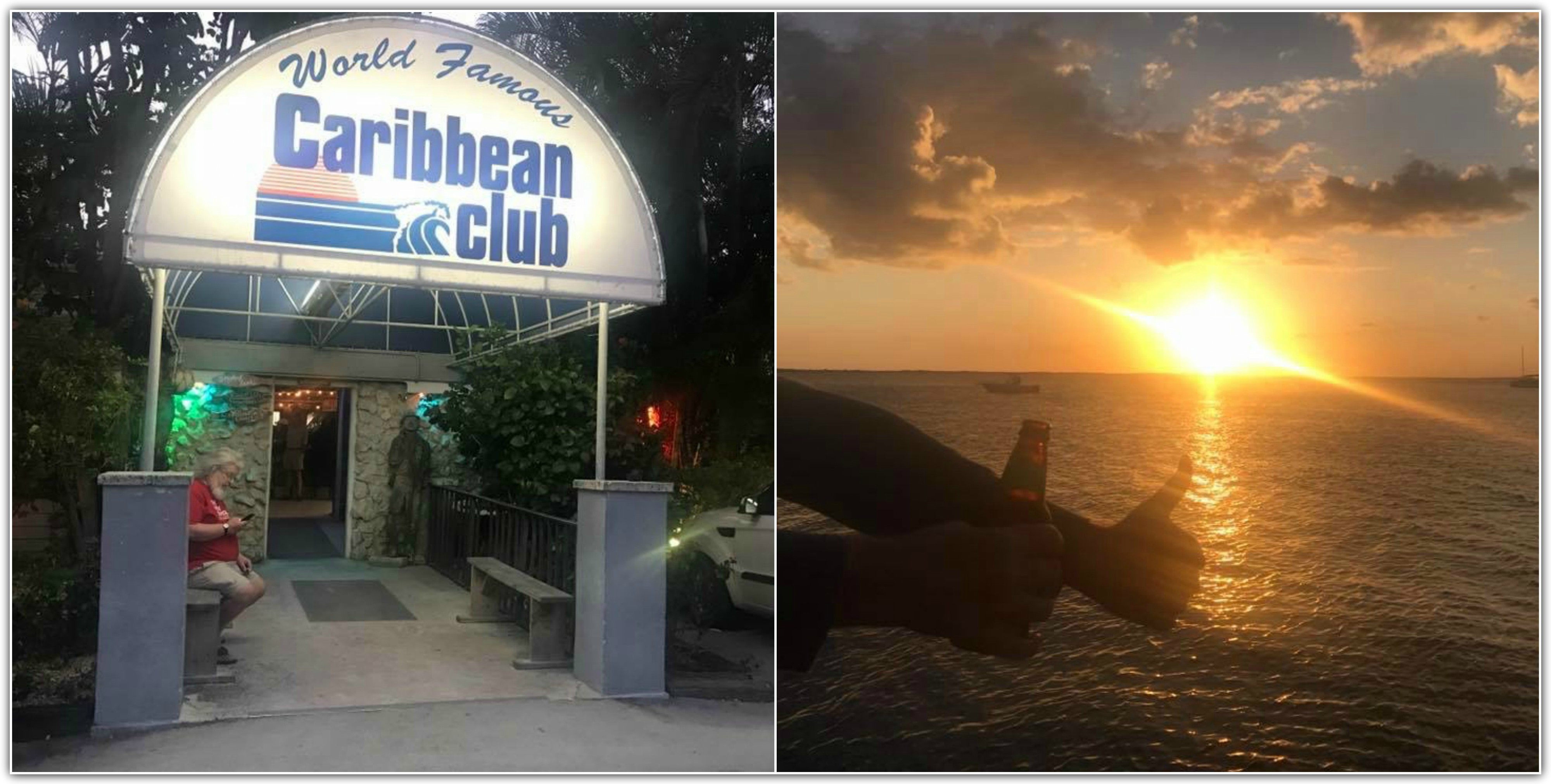 Mrs. Mac's Kitchen 2 – Danny and Chelsea can be seen here having breakfast on the show. They have a full bar so if you're feeling frisky go ahead and order up another drink. We have a lot of stops ahead of us though so maybe a round of waters and some key lime pie?
Our next stop is about 20 minutes south in Islamorada…
Marker 88

 – where Danny meets his dad for a drink and his dad offers him a nice chunk of change to "go away." It turns out the dad's gut feeling that Danny would bring nothing but trouble was right. The view is gorgeous here with tables right on the water.
Founder's Park – you'll drive by Founder's (on the right) on your way to the next stop. The family watches a baseball game and a swim meet here. There's a per person charge to enter the park, I think it's around $8.

Oceanview Inn & Sports Pub

– Meg & Kevin are shown here on the mangrove path out to the floating dock (pictured below) discussing their father's will. Danny is also seen at this bar enjoying a few too many and getting into a fight. This is a laid back bar with adirondack chairs around a fire pit and a floating dock to watch sunset from. Depending on when you started today you might actually be here for sunset, enjoy!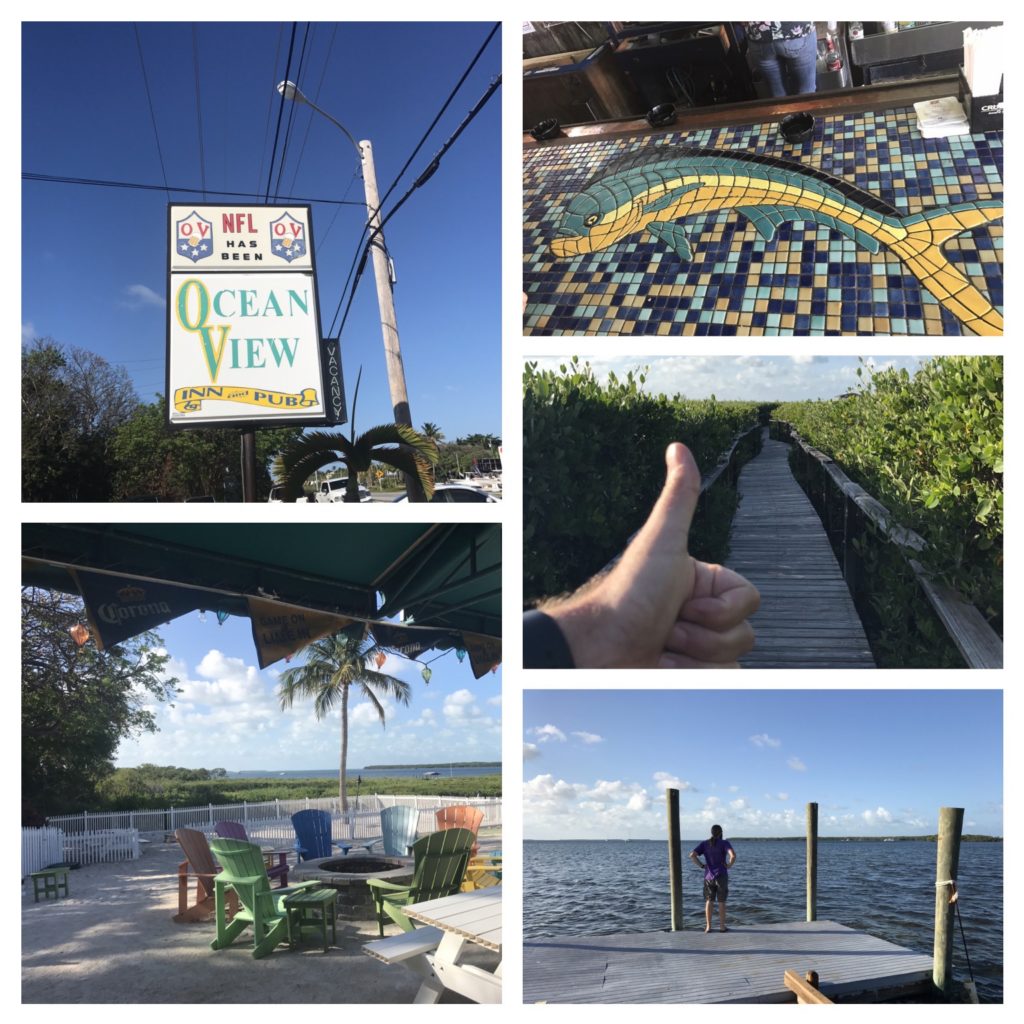 Morada Beach Cafe

–  see two filming locations at this stop. The Beach Cafe is the scene of a beach bar party on the show. I'd recommend making this your dinner stop on the tour. Brightly colored tables right on the beach overlooking calm waters and mangrove islands. The blackened fish of the day is my favorite served with a delicious black lentil salad. While you wait for your table wander over to Pierre's restaurant right next door. You can get there from the beach. The bar area was featured on the show.
Green Turtle Inn

– This place makes a few appearances on the show but most notably it's the place where Meg tells Marco about her affair. Jimmy Buffet was there for dinner about a month ago and surprised everyone by getting up and playing a few songs! You never know what will happen in the keys!
Safari Lounge – I haven't been to this place yet. It's a bit further south than we normally venture so if you go let me know what how it was!
The next morning…
Let's check another place off the list and start the day with some strong Cuban coffee and breakfast at the Sunrise Cuban Cafe in Tavernier, then we'll head south.
Robbies

–  a lot of scenes where Danny and O'Bannon are lounging around in boats smoking were filmed here. There's never anyone else around in the scenes which is funny because in real life this place is always hopping so it's best to get here early to beat the crowd. Robbies is famous for the tarpon that wait just off the dock to be fed. A word of warning if you decide to feed them: while the tarpon don't have teeth they can scrape your hand pretty good. A second word of warning: always have someone in your party on pelican watch while you're feeding the tarpon! I was so focused on the tarpon that I didn't notice a pelican sneaking up behind me. I ended up with my forearm engulfed in its giant beak. You've been warned! Have fun!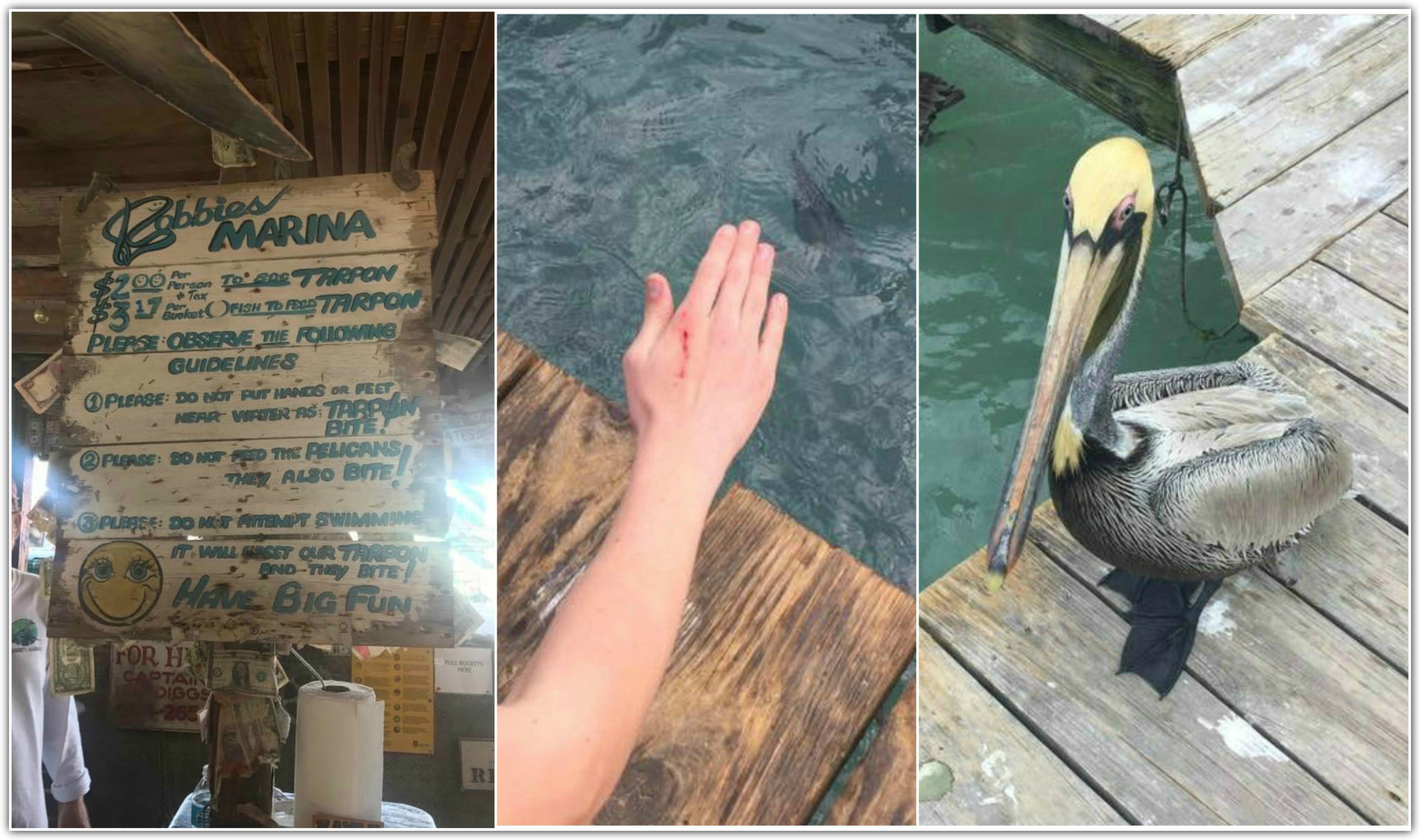 Let's head south now and work our way back north…
Long Key State Park – this is the southernmost stop for the day and the scene where "the bad thing" was filmed. Bring bug spray to walk the short trails through the mangroves down to the ocean. Don't bring that family friendly stuff – you need deep woods off with deet if you want to enjoy this place! Or you can run the trail, I did that once trying to outrun the mosquitoes. Your choice!

Anne's Beach

– the scenes where the father kayaks every morning were filmed here. The view is gorgeous and it's popular with kite boarders on windy days. Parking is a competitive sport here.

The Moorings Village & Spa – this is the Rayburn's resort on the show and in real life it's an expensive, upscale resort. I wanted to stay there for a weekend last winter for my birthday but with the 3 night minimum it was close to $3,000 so we passed. I'll be honest, I'm not sure that they allow public access to the property. If you go, send me some pics!
Bad Boy Burrito – lunch time! If you're doing this tour on a Sunday the burrito place will be closed but stop and see Kevin's boat yard and eat at the next stop. We absolutely love this place! Nothing fancy, just a taco stand with outdoor tables and the best tacos & burritos until you hit

Key West

(where their other location is). Go to the seating area and face the taco stand and you'll see a fence with a gate to your right. Go through that gate and down to the dock. This is Kevin's boat yard & office on the show. I found it completely by accident looking for the burrito place the first time we went! Alternatively, you can drive down there on the first road north of the Trading Post.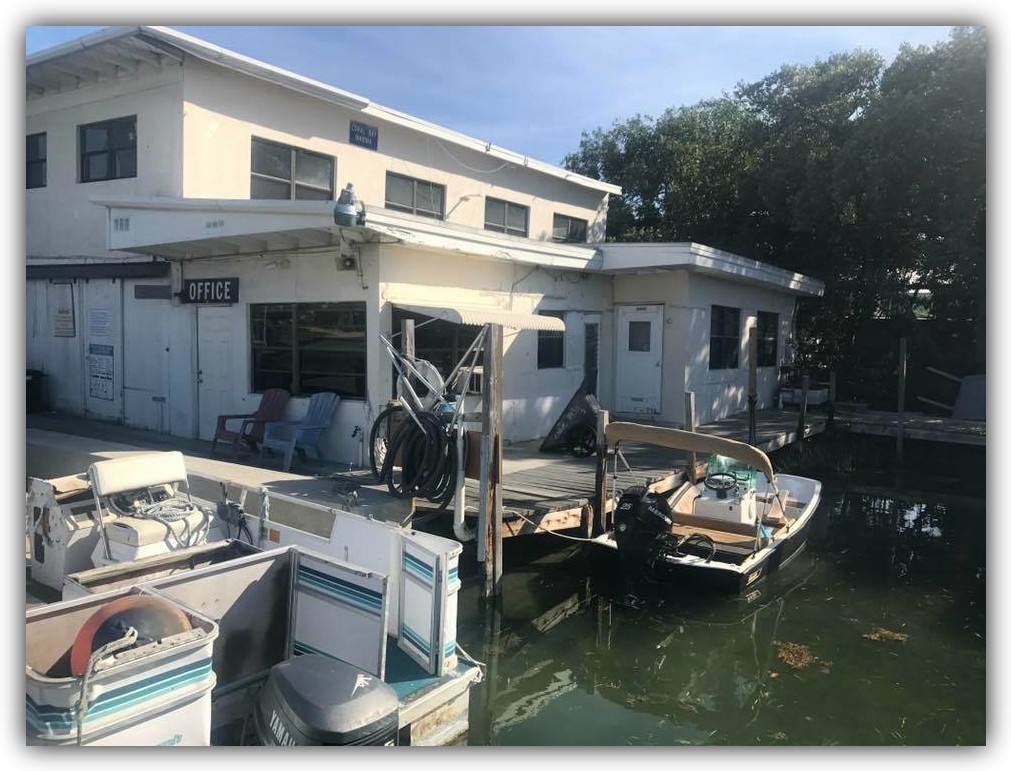 Guy Harvey's Islander Resort – less than a mile north of Kevin's boat yard on the ocean side is the site of the Rayburn family pier at the Islander Resort. Grab a beer at the

Beachside Bar & Grill

and enjoy the view! Also a great lunch spot.
Our next stop is just 5 minutes north and you can visit two filming locations within walking distance of each other…
If you're up for it, head back to your hotel, take a shower (and maybe a nap) and finish your Bloodline tour with a swanky dinner at the Alantic's Edge restaurant inside the Cheeca Lodge and Spa. Danny & Sally can be seen having dinner here on the show.
That concludes our tour! Stay tuned for a season 3 filming location tour coming soon!
Until next time … 
Stay warm friends!