Roatan – keeps calling us back!
There's just something about Roatan that keeps calling us back. We've been there three times over the past four years and we've never been back anywhere before. I know it's only a matter of time before we're booking yet another trip there. With so many places to see & so little time to explore them we generally don't return even to places we loved. So what gives? Why does Roatan have a hold on us?
There's a lot to love about Roatan!
Easy to get to – there are plenty of flights to Roatan from major US cities making it easily accessible. We prefer flying through Miami but there are also flights out of Houston and probably other major airports as well.
The diving – the diving in Roatan is truly spectacular! The reefs are healthy & teeming with life. A big part of this is due to the conservation efforts on the island by concerned folks and most notably the Roatan Marine Park. Having recently returned from Utila I can truly appreciate the impact their efforts have had on preserving their gorgeous reef and all of its inhabitants. Diving here is easy too with very short boat rides to most sites.
The rustic town – we love West End. It's just a funky little town where you can find everything you need … once you hunt around for it 🙂  By the end of your time on the island I bet you can't walk down the main street without stopping to say hi to people you've met along the way.
Gorgeous island – this pretty much goes without saying. The island is lush with beautiful tropical plants and flowers. From the picturesque hillsides to the Caribbean views all around, everywhere you look is paradise. I love seeing the waves crash out on the reef.
If you go
A Few Restaurant Tips
Cannibal Cafe, West End – we love sitting upstairs facing the street and watching the comings and goings of West End. The food here is authentic, relatively cheap (for a meal with table service) and there's great people watching while you wait. If you're lucky, you'll see a hummingbird tending to her babies in a nest hanging from the Christmas lights. The chips are amazing & homemade and the fresh guacamole is outstanding. Try the lion fish tacos and do your part to save the reef!
Tong's, West End – if there's a more idyllic setting to enjoy your Thai food in we haven't found it. Most nights, Tong's will have tables for two with candles along the dock stretching out into Half Moon Bay. Once a large ray swam right underneath us during dinner! There's nothing better than that for ocean & nature lovers like us. The papaya salad is terrific as is everything else on the menu.  I don't have any pics of the food here but you don't want to miss it. Unless things have changed, they only accept cash so be sure to plan for that.
Blue Bahia, Sandy Bay – Blue Bahia is right on the beach in Sandy Bay close to Tranquilseas Eco Lodge. The food is fresh & varied and they often have live music. There are nightly drink specials & it's also a great place to catch a sports game. We were on the island for Thanksgiving 2014 and a huge storm had rolled in. Everyone was without power & most of the island was shut down but not Blue Bahia! They pulled down the tarps, lit some torches and carried on. A Thanksgiving we'll never forget!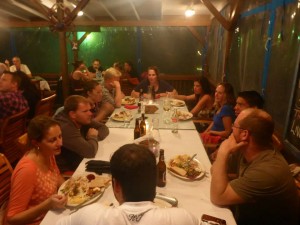 The Sunken Fish Bar & Restaurant, Sandy Bay – this is the restaurant within Tranquilseas Eco Lodge & it's open to the public. The food is amazing, takes advantage of local ingredients & abides by the island's responsible seafood standards. They also have a juice bar if you're looking for a healthy boost. You can't go wrong having lunch or dinner here and the view is to die for. The menu changes all the time so check out their website for the latest offerings. Be on the lookout for special nights with live music or talks on reef life.
Sundowner's, West End – the place where everyone gathers for happy hour to watch the sunset over Half Moon Bay – beautiful! Also a great place to meet up with fellow travelers and divers. They have casual food on the menu but we've never tried it.
Land's End, West End – up the road from Sundowner's, you guessed it, where the land ends. The end of the island here is iron shore and this is a great place to grab a drink and watch the waves roll in during periods of high surf. Nothing really remarkable here outside of the view!
Cafe Escondido & Roatan Oasis, West End  – we never made it to either of these but we wanted to! We've heard great things so to check them out and let us know what you think.
Lodging Tips
We stay at the same place every time because why mess with absolute perfection. The staff is amazing and they care about Roatan & the environment. The lodge is green minded and they do all they can to conserve resources & reduce their impact. The diving could not be easier, just walk downstairs onto the dock and get on the boat. They'll setup and clean your gear for you too if you want them to. The gear lockers are right near the dock so you never have to lug your stuff far. There's a whiteboard outside the shop listing the boats and destinations. Just talk to the dive-master and get your name added to the boat trip that best matches your level.
Not a diver? Don't worry, there's plenty for you too! Enjoy a yoga class on the elevated yoga deck overlooking the Caribbean or go for a snorkel right out front. It's some of the best shore snorkeling we've ever experienced. There are also countless places to curl up with a book and relax – all with the same spectacular view.
Want to go to town? Just walk to the main road and a cab will appear within a few minutes.
What to bring?

A lot less than you think! Everywhere is extremely casual and if you're like us you'll wear the same things over and over. You'll definitely want to bring or acquire:

Bug spray – there are some eco-friendly options on the island worth trying. The sand flies and mosquitoes can be pretty bad so be prepared.
Sunscreen – look for reef safe varieties if you'll be in the water.
A raincoat – if you're going during rainy season you won't regret packing a raincoat.
Sneakers – if you plan to hike to the top of the botanical gardens. I tried doing it in flip-flops and almost lost a toe to some fire ants. Ouch!
Water bottle – everywhere you stay will have a water cooler to refill your water bottle. A much better choice than buying disposable water bottles plus you'll save a decent amount of money too, win-win!
Consider packing your recyclable trash home with you. Roatan is an island and doesn't have the recycling facilities you have at home. Your recyclable waste will end up in a landfill or incinerator so it's more friendly to just take it with you.
What are your favorite spots in Roatan? Leave your tips in the comments.
Until next time …
Warm thoughts to all!