Mahahual – Where to Eat
If there's one thing we love, it's good food. As an added bonus, everywhere we ate in Mahahual was either completely open air or screened in. Come to think of it, we weren't in a climate controlled place the entire week which we loved! There's nothing better than full days lived outside in the fresh air & Mahaual takes full advantage of their gorgeous climate. No one accepted credit cards so make sure to bring cash. There are two ATMs in town that we found, one is on the side of De Vino and the other is inside the Bucceando dive shop. Bucceando's was the most reliable.
40 Canones – best place for a date
On the malecon further south, about 2/3rds of the way down. On the fancier and more expensive side, it's perfect for date night. Great atmosphere, beautifully lit, attentive service & delicious food thoughtfully presented. I loved the music too! They were playing smooth jazz versions of 80s pop songs. Sounds a little cheesy but it worked for us. We stumbled on it our second night in town and decided we'd go back for our last night.
Night 1: 4 glasses of wine, 1 spaghetti aglio olio w/ chili flakes, 1 linguine with seafood. 700+ tip (~$40)
Night 2: Caprese, spaghetti pomodoro & spaghetti aglio olio with chili flakes & 6 glasses of wine (we hung out a while and listened to the music). 970 + tip ($55)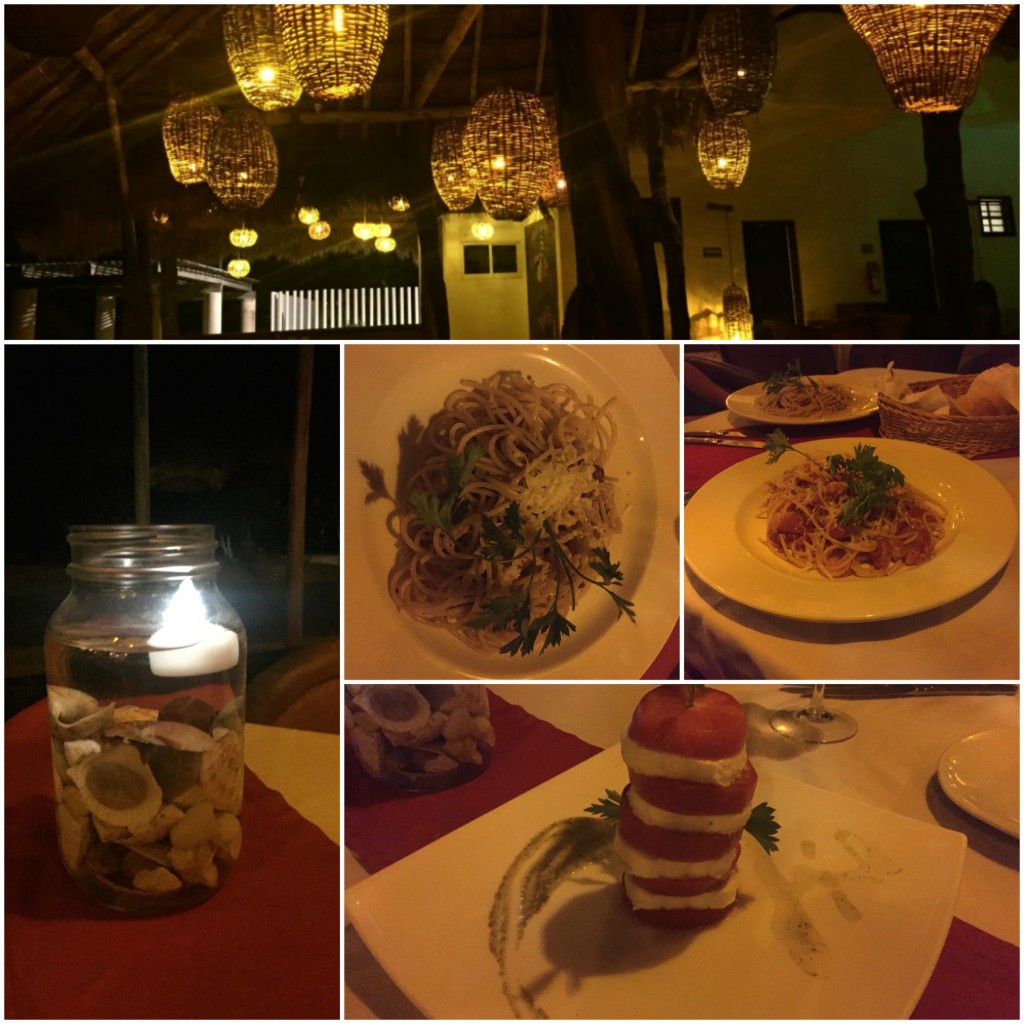 De Vino – great Italian food & homemade pasta
This is on the main road, as you walk south it will be on your left near the soccer fields. We went here for dinner twice, on our first night when we were starving and exhausted and again later in the week. If you order a pasta dish ask for their homemade pasta for a small up charge, totally worth it.
Night 1: Veggie bruschetta, one veggie pizza & 2 bottles of water – 230+ tip (~$13). We had enough pizza leftover for lunch the next day too.
Night 2: Pesto with homemade fettuccine, veggie carbonara with homemade fettuccine, 2 glasses of wine & 1 bottle of water –
355+ tip (~$20)
Cafe Colonial – awesome breakfast
This is between the malecon and main road near the Tipsy Turtle. We never would have found this place if not for Steve at the Tropicante. Awesome breakfast! We ate here quite a few times. A ton of food for 85 pesos. Eggs, beans, cake, bread, coffee & juice. The juice is made fresh to order and is blended with ice, refreshing & delicious. After the first visit, we split a breakfast going forward. Splitting was enough to get us through 2 dives and most days we just ate something light for lunch. The homemade hot sauces were amazing too!
1 breakfast with an extra coffee – 100 + tip (~$5.75)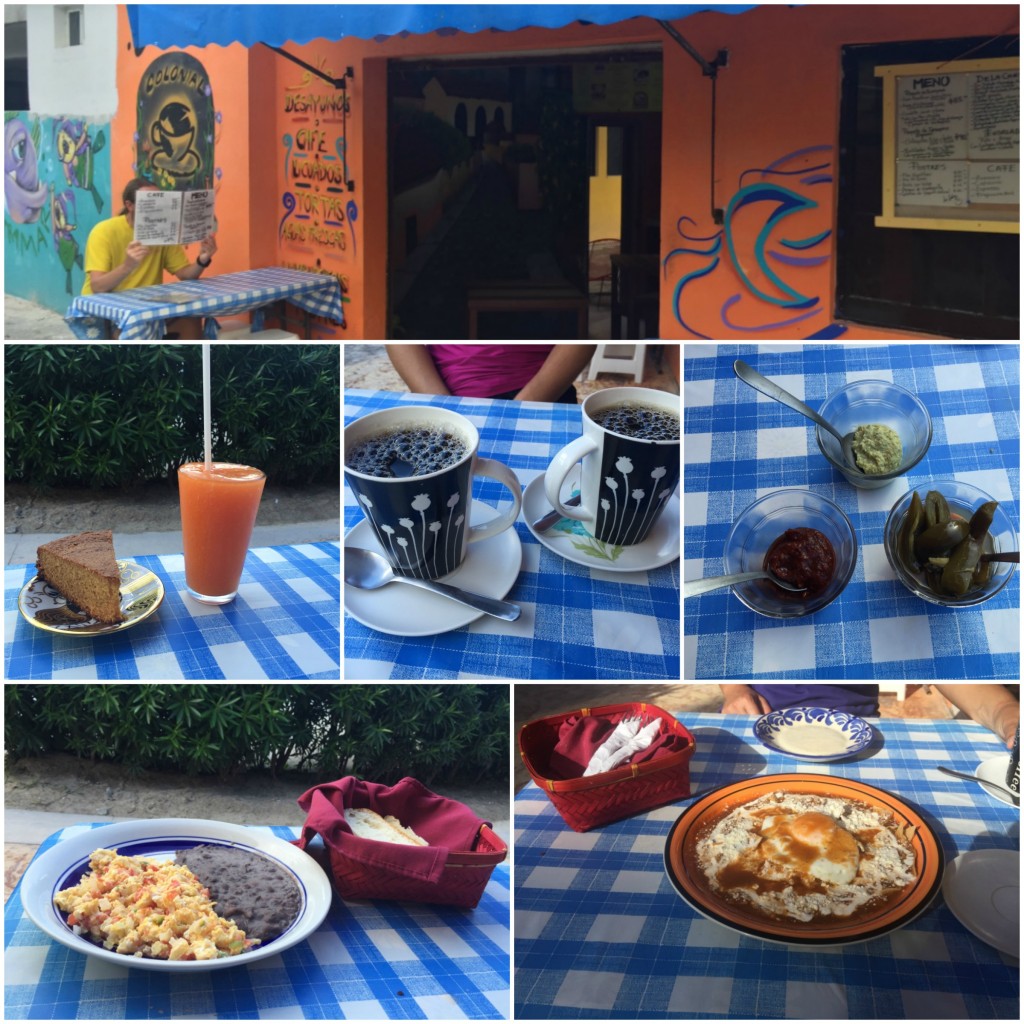 Tropicante – great food & service, right on the beach
Right on the malecon with tables on the beach – only open on cruise ship days. Everything we tried on the menu was great! The owner Steve is terrific & they were willing to modify dishes for us since we don't eat meat. If you have any restrictions definitely ask & he'll help you out. The fish tacos & arros con pollo sans chicken add veggies were really good. We were starving after diving & it was late in the day after a light breakfast & we didn't come close to finishing our food… we ate it for dinner on our deck. Luckily we were renting the apartment above the Tropicante so we had a fridge & full kitchen. I didn't catch any prices because Steve insisted on buying us lunch all week due to the AC in the apartment being broken, THANK YOU Steve!! That was extremely generous!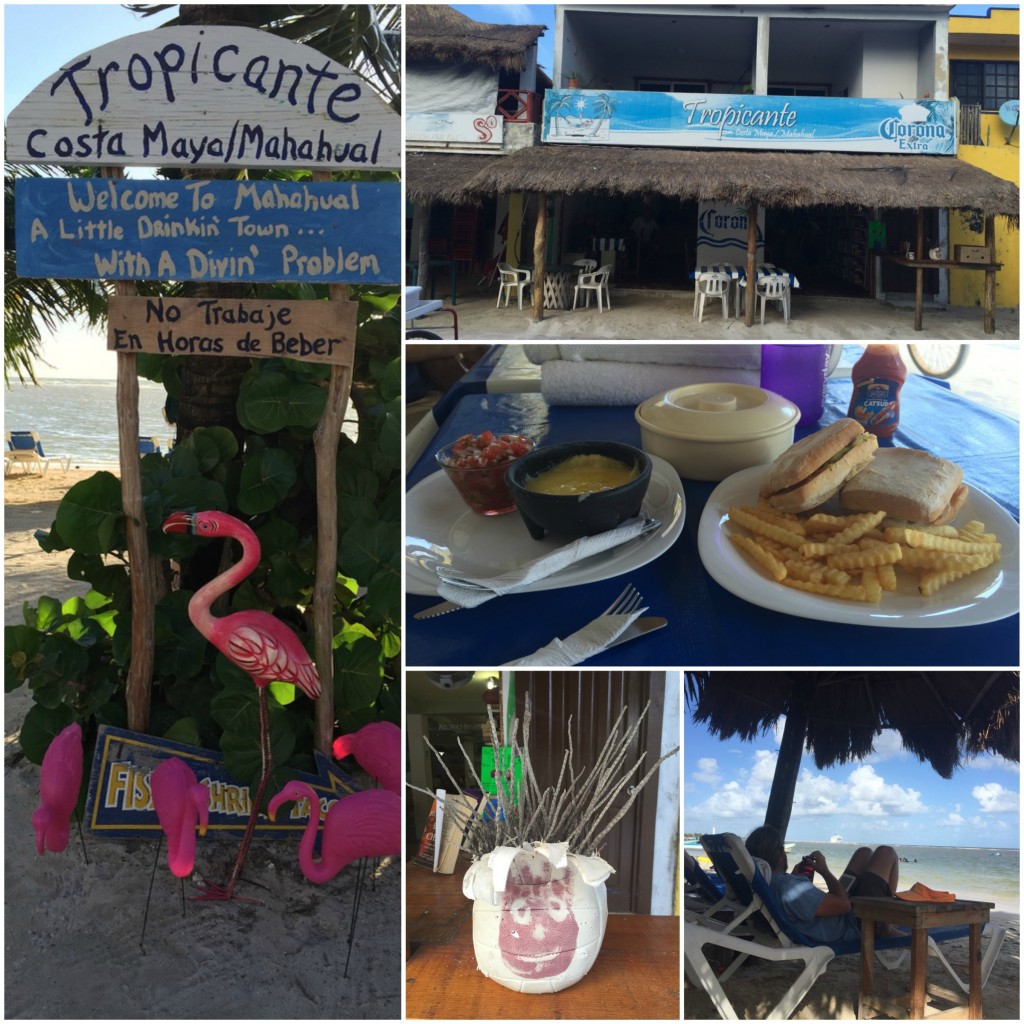 Luna de plata – really good pizza, bring bug spray
This is further south …. walk south to the end of the pedestrian only part of the malecon where cars are allowed. Shortly thereafter the paved portion ends and turns into a dirt road & it's just a few minutes from there. Nice atmosphere and really good pizza with a thick crust. You can order the pizzas with different toppings on each half which we did but they accidentally made two pizzas but only charged us for the one so we had enough leftover for a lunch and a dinner.
Pizza & 4 beers – 430 pesos with 20% tip (~$24)
Have leftovers but no fridge where you're staying? No problem, they'll keep them in their fridge for you! You can come back & eat it whenever. Also, holy freaking mosquitoes!! We sat inside & still got torn up. Bring bug spray for anything past the pedestrian section of the malecon & on any night there's not a breeze.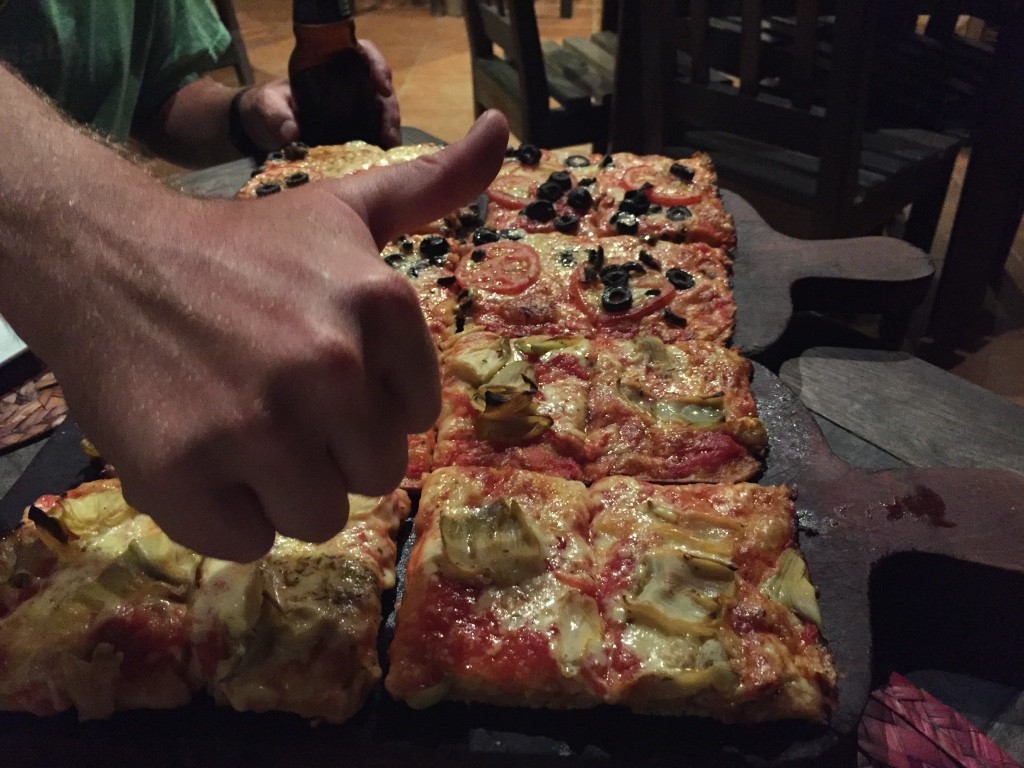 Karlita's Bakery – ground bag coffee & bagels
Right on the malecon right before Fernando's as you walk south. We could not find bagged ground coffee anywhere & finally found it at Karlita's for 130 pesos (~$7) per bag which lasted us all week.
Nice selection of baked goods, cookies & cakes. The chocolate peanut butter cookies were to die for!
They also have bagels! 2 bagels toasted with cream cheese & jam, 70 pesos (~$4)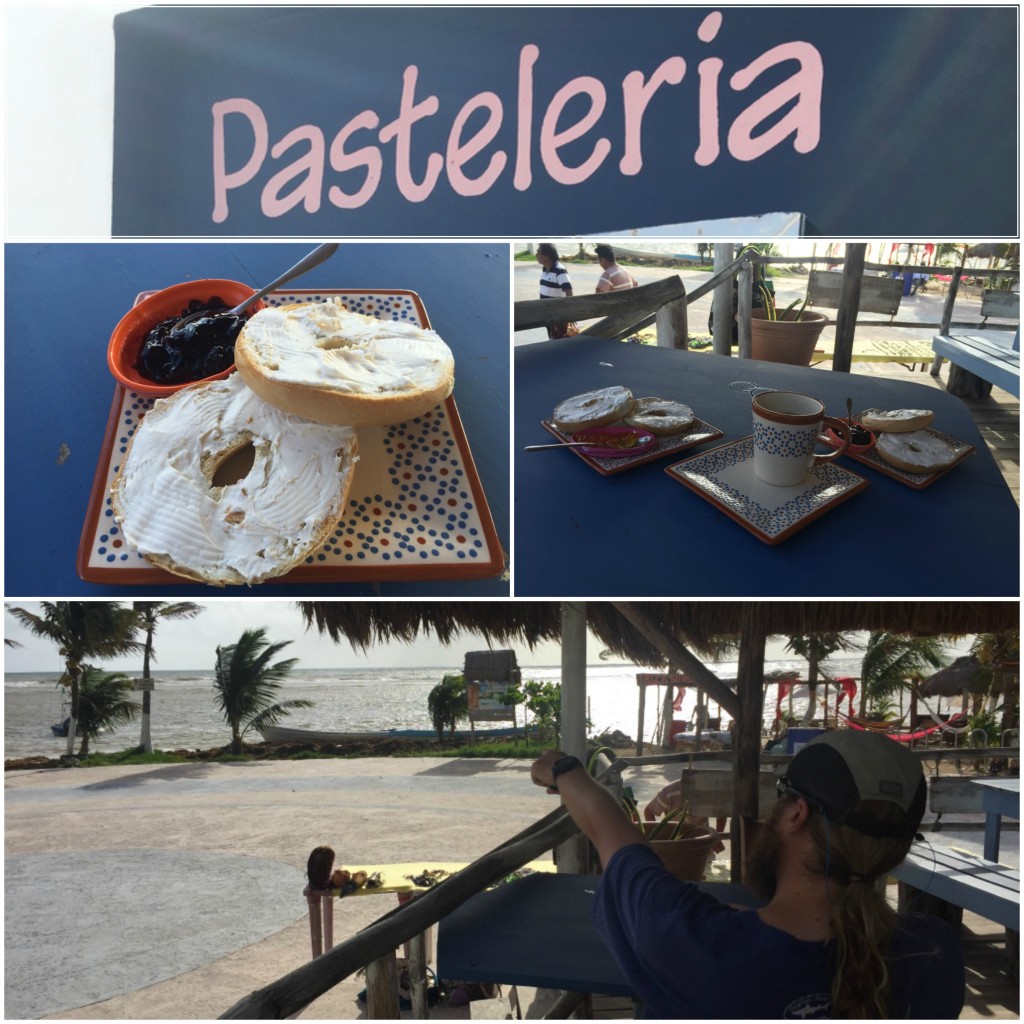 Bakery across from cafe colonial
Awesome homemade bread! Two large fresh baked rolls were 6 pesos (~$.35) & made a great lunch with manchego from el primo. They were warm from the oven when we got there – what's better than that!
Fernando's – on the malecon
Great atmosphere with friendly service. Fernando is very personable and does a tequila tasting if you're interested. We were interested but never made it as we don't like to drink much when we're diving the next morning. Lots of very sweet cats in the restaurant too. Dinner started with a complimentary welcome drink shot (strawberry daiquiri?) & ended with a warmed coffee tequila.
4 beers, fish tacos (3) & veg tacos (3) – 240 pesos + tip
Pariso – AWESOME chilaquiles!
On the main road just south of Bucceando. So good! We dug in forgetting to take a pic first. Pretty presentation with cucumber slices decorated with a beet slice around the plate. I'd definitely recommend splitting the chilaquiles, it's plenty of food for two. Great fuel for our bike excursion!
Chilaquiles with beans, cheese quesadilla with beans & salad, 2 coffees – 120 pesos + tip (~$7)
Do you have a favorite restaurant in Mahahual that I didn't mention? Leave it in the comments!
Warm thoughts to all!