Mahahual – is it the place for us?
You don't have to go home but you can't stay here! Now that we've sold pretty much everything we own and the months on our lease are ticking by, it's time to get serious about where we'll go when we leave our corporate jobs. We both want to travel for a month or two before settling anywhere long term (BVI, Bonaire, …) but after that, we need to figure out where we'll go. We can't afford to stay in the U.S. without our full-time jobs so where to? And let's pause for a minute on the month or two of traveling. Even writing that feels unreal to me having never had even 2 weeks off since I started working at 16. I can't wait to see where my interests take me when I have more than 2 days a week to explore them!
Mahahual is currently our top pick. It checks all of the boxes and while no where is perfect it's pretty darn close for us. Mahahual/Costa Maya is on the Caribbean coast of Mexico all the way down south near the Belize border. There's just one more town further south before Belize called Xcalak. We didn't make it down the Xcalak on our scouting trip to Mahahual but we definitely will at some point. There's very little there but if you like diving, staring at the gorgeous Caribbean water, nature & star gazing it has everything you need!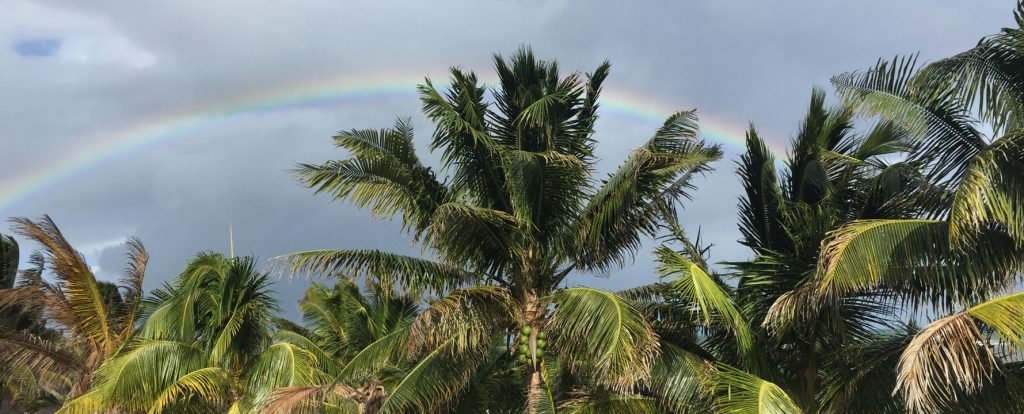 Pros
Accessible – Mahahual isn't the easiest place to get to, if it was, it would probably lose of a lot of its charm. Most visitors are there for the day on a cruise stop (see cons).  And while it's not easy to get to it is accessible. The ACO buses run a regular route from Playa Del Carmen to Mahahual which is about a 4 hour ride. You could also rent a car or hire a private driver – options for every budget! If you rent a car it will likely sit largely unused during your time in Mahahual since you can walk or bike to everything in town.
Visas – Mexico's tourist visa is a generous 180 days with only a touch down somewhere else required to reset it. From Mahahual, we could charter a boat to Belize, have lunch & come back for another 180 days. There are also great retirement visa options which we'd pursue.
Healthcare – there are clinics in town with English speaking doctors for minor stuff. Anything major & we can head to Cancun for state of art facilities and care. For our furry family members, there's a full-time vet in Mahahual with Cancun offering extended services if needed.
Getting the dogs there – one short flight from Miami to Cancun is about as easy a trip as it'll get for the dogs & we'll fly them on a Delta cargo flight where they can ride in the climate controlled cabin accompanied by an animal specialist.
No car needed!  I love this! You can walk or bike to anything in town.
Safe – this is a very small community where everyone knows each other. Everyone was friendly & we felt safe walking around any time of day.
Yoga – there's a great studio right in town, definitely a huge pro! We both love yoga and I really like a studio atmosphere vs. a home practice.
Getting stuff – easier than most places, plan a trip to Cancun or Chetumal and you can get anything you need.  When you get right down to it, you really don't need as much as you might think.
Quiet & peaceful – when the ships aren't there! See Cons.
Diving – the diving was tremendous! I still have a post to write about the diving – the easiest and most uncrowded diving I've ever done. It was just us & the shop owner. If you're heading to Mahahual, stop in to see Moises at Buceando Mahahual for your diving. We had an outstanding time with him! There might also be some opportunities for us to work at some of the bigger shops that cater to the cruise ship tourists, a huge pro for sure.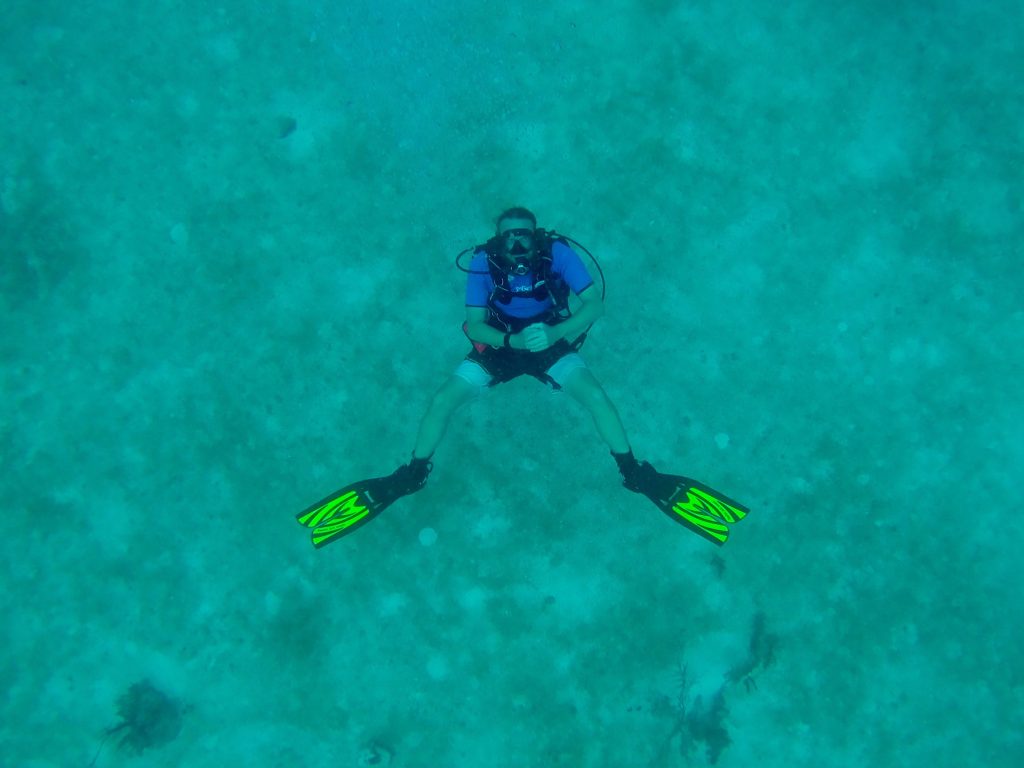 Cons
Cruise ships – it's the one thing that makes this place's existence as it is today possible. Before the cruise port, Mahahual was a tiny, sleepy fishing village. That way of life was pretty much ruined by the port. Now Mahahual is completely dependent on the cruise ships and the money their passengers bring to town. Needless to say, my favorite time in town is when the ships leave. While we were there, a lot of the cruise shipper's behavior pretty much disgusted me. Not everyone – but too many. Please be respectful visiting another country, don't be rude to anyone, if you don't want something being offered be polite. Think about how you act in port – if someone was acting the same way in your country would you appreciate it? If the answer is no then it's time to check yourself. Enough said on that.
Beach access – the beaches on the malecon are mostly private & owned by the restaurants and bars. If you buy a drink you can use a chair and the beach so really not a huge con.
No where we've been so far beats Mahahual in the pro/con showdown.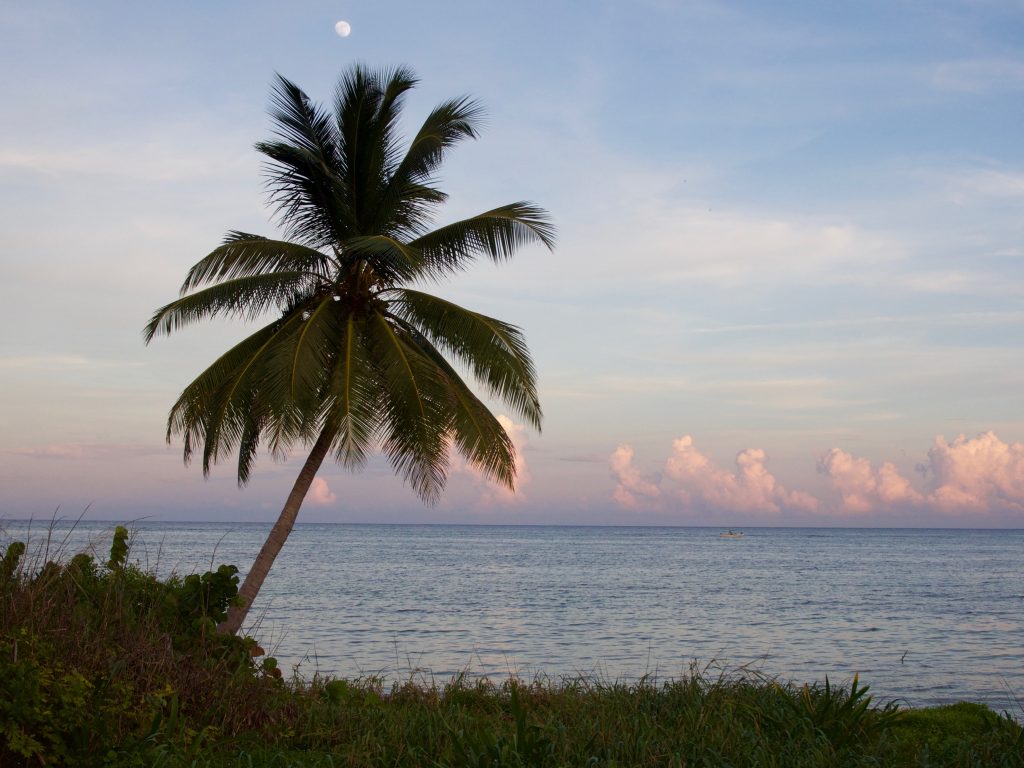 Until next time …
Warm thoughts to all!