Mahahual – Getting There
So you want to go to Mahahual & you're wondering what's the best way to get there? There's really no 'best way' – there are options to fit every timeline & budget. It's a little harder to get to Mahahual than other destinations but chances are that's why you picked it. If you wanted easy you would have booked an all-inclusive on the beach in Cancun! Now that we've been there I can say it's well worth the extra trouble. Getting there the same day you fly is absolutely possible, we did it & if you decide to give it a shot get ready for a long travel day! It was about 16 hours door-to-door with a layover in Miami and a few delays.
If you don't feel like putting in such a long day consider stopping in Playa Del Carmen for the night or even longer if your schedule allows for it. There are plenty of shops, restaurants, beaches and historical sites to check out before continuing south.
The drive is long and feels never-ending at some points. From Cancun directly to Mahahual it's about 4 hours & once you pass Tulum there's very little until you reach the town. It's a pretty drive through a dense jungle followed by more open wetlands covered with mangroves. One thing's certain, you'll be ready to get out of whatever vessel you choose by the time you get there 🙂
Private Transfer: $280 round-trip for 2 passengers + tip
This is the option we picked & we booked it through AGI Tours. We had a great experience with AGI from start-to-finish & I would highly recommend this option if ease of transfer & flexibility are important to you. Javier was very helpful over email and sent us all the details we needed to find their agents upon arrival. Everything is prepaid ahead of time (except for the tip) so all you have to do is hop in and relax. Our flight was delayed by a couple of hours & our AGI representative was there waiting for us holding a sign with our name. Our driver arrived about 15 minutes later, loaded our bags into the back, handed us both a chilled bottle of water and we were on our way. They'll stop twice for bathrooms and a store, once in Tulum and once further down in a little town that I can't remember the name of. Consider leaving a nice tip as it's a very long drive & our driver had to turn right back around and head back to Cancun, a tiring day for him.
Pros

It's flexible – the driver will wait until your flight arrives.
Direct from Cancun to wherever you're staying in Mahahual.
Same day arrival is easily achieved.

Cons

It's more expensive than the bus but I think the pros offset the price difference of $35 (per person) each way. $35 is a lot cheaper than getting stuck overnight due to a flight delay!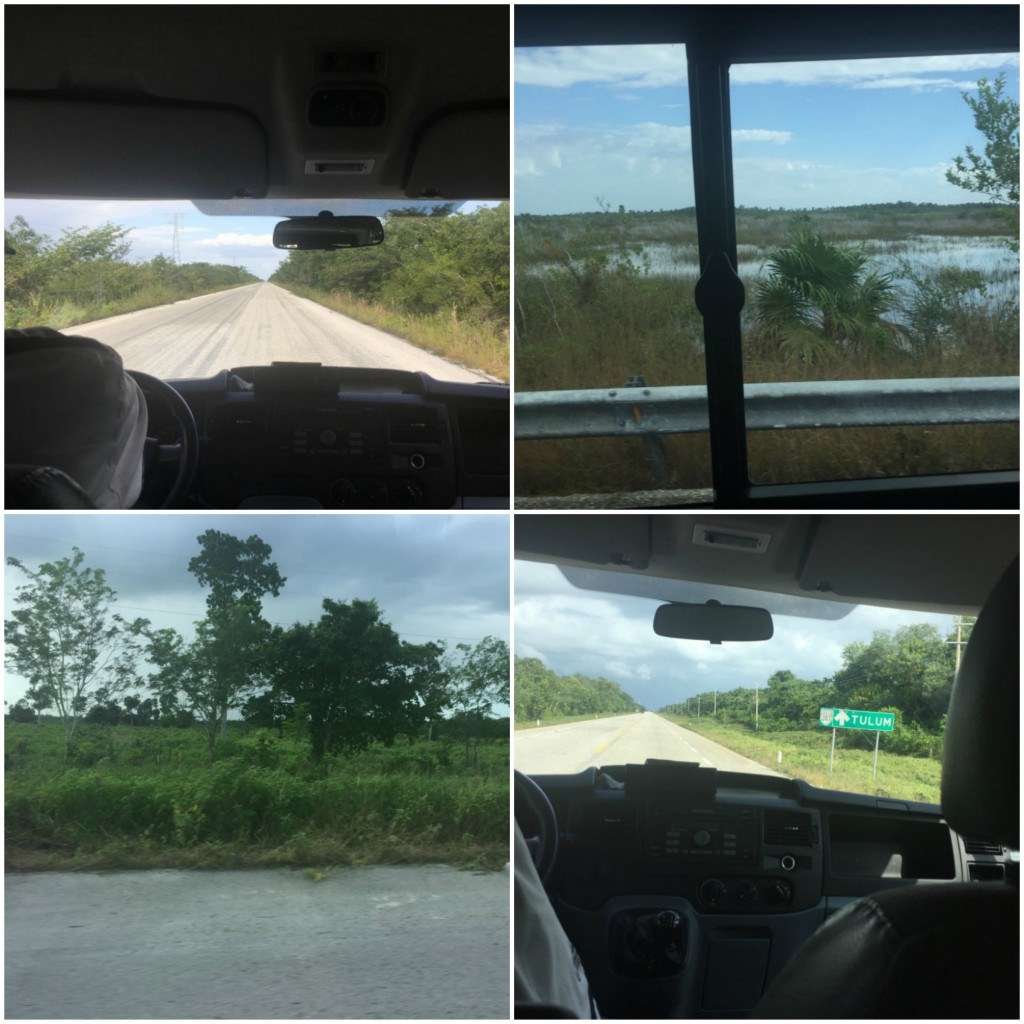 ADO Bus: $70 per person round-trip
The ADO bus travels a daily route between Mahahual and Playa Del Carmen which is about an hour south of Cancun. The buses are well maintained with cushy seats & air conditioning. It leaves Playa at 4:45pm so to make this option work your flight needs to get to Cancun by around 2:00 because you'll first need to catch the hourly shuttle from Cancun to Playa for $10 then the bus to Mahahaul is another $25. This was our top choice before we found the AGI transfer. We just didn't want to risk getting into Cancun late and not making the bus in time which turns out would have happened with our delay in Miami. For us, the extra money was worth the guarantee that we'd make it the same day. The bus leaves Mahahual l for the return trip at 7am so plan your flight home accordingly. Most flights come in the morning and leave mid to late afternoon so you shouldn't have any trouble there.
Pros

A great value at $35 each way!
Same day arrival is possible.

Cons

Delays out or your control could cause you to miss the bus and overnight in Cancun or Playa Del Carmen.
Rent a car: about $425 a week depending on what you rent
Important – you do not need four wheel drive! The roads between Cancun and Mahahual are in terrific shape so don't get talked up into more car (and expense) than you need. You also don't need a car once you get there. Everything is in walking distance so you'll just end up parking it and having it sit all week. We opted against renting a car for that reason and because we knew we'd be tired. If you decide to rent a car I'd recommend staying the night in Cancun and driving fresh the following day. It was dark when we got to Mahahual and I wouldn't have wanted to navigate in the dark. To be fair, there's only a couple of turns but I know we would have second guessed ourselves.
Pros

The ultimate in flexibility! Come and go as you please!

Cons

It's the most expensive option.
You won't need the car once you get there so you're paying for each day but only using it twice.
Partial Cruise: price varies widely 
I just learned about this option in the last few weeks. A partial cruise is when you board in one location and disembark in another. Royal Caribbean allows it as do other cruise lines. I'm not a huge cruise fan but what a nice way to get to your destination! This will be especially nice when we relocate to the Florida Keys which is the plan at this point, at least for a little while. There are plenty of cheap last minute deals for cruises out of Miami with Mahahual (Costa Maya) on the itinerary. The prices we found on a quick search were less than flights from Miami to Cancun and no ground transportation needed! The cruise line will arrange for a customs representative to meet you at the port for your visa and you're on your way. We will definitely be exploring this option in the future for Mahahual and everywhere else with a port.
Pros

Much more relaxing than the other options. Sit back, relax and you're there! You might even get to visit some other ports on your way.
You can bring far more luggage for less on a cruise than you can flying making this a great option for longer stays.

Cons

This option only works if you live near a port. If you have to fly to a city with a port or take a long drive to one it's probably not worth it.
You need to be going for a longer period to make this worthwhile.
There you have it, a few of the most popular ways to reach Mahahual and one creative one. However you choose to get there, enjoy the adventure! Mahahual is a quiet, picturesque, uncrowded (except when the boats are there!) paradise full of warm people. We absolutely fell in love with this little village! I've been hesitant to name a location when we go where it's warm but Mahahual has moved into the top spot. We can't wait to go back.
Stay tuned for all things Mahahual including where to stay, eat, dive and everything you need to know about the town to plan your trip.
Until then…
Warm thoughts to all!