Keys Life – Weeks 2 & 3
Hello from the Keys! Weeks 2 & 3 flew by. It's been rainy & windy with just a few nice days mixed in. We had so much rain this past Friday we could have kayaked in our yard. Yesterday was the first sunny day in 5 days and I'm so glad it was a weekend day! Work was busy this week so that helped & it gave me a chance to check out the local yoga studio which I probably wouldn't have done if the weather was nice. I love yoga but I love being outside more. We definitely made the most of the day! Coffee and breakfast on the deck, an afternoon of paddling around the mangroves & a bluegrass festival in Islamorada. The festival was at oo-tray, we'll definitely be back there. They have a nice outdoor music venue and a lot of great beer on tap.
Despite the bad weather, we've been busy exploring. We took a drive last week and checked out the islands south of us down to Lower Matecumbe trying to figure out where we want to be when we move and as of now, it's Key Largo. The other keys are very narrow and made me feel closed in. I'm really happy in Key Largo, it's wider than the other islands so we can go for long walks and there are a lot more bars and restaurants. I like the vibe here too, laid back and friendly.
Here's what we've been up to:
We found some decent restaurants! They do exist!

Ballyhoo's – hello veg menu 🙂  We can walk here too, so extra points for that. We started with drinks at Island Grill (gorgeous view), then Ballyhoo's for dinner. Definitely a repeater. Island Grill is dog friendly too.
Senor Frijoles – Mexican food with a view. Definitely a bit pricey for Mexican, $36 for guac, 2 beers & one veg burrito that we split. We'll probably go back though, the guac was good and they're willing to modify menu items to make them veg. They do score points to taking $ off the steak burrito we ordered with veggies only. There's always an up-charge to add meat but the opposite is almost never true! If you're a veg you know exactly what I'm talking about.

65 degrees is now considered a chilly day. The weather at home next week has lows in the 20s – no thanks.
Key Largo Yoga – a great little studio just 2 minutes down the road. When the weather's nice I can walk to class. Everyone was so friendly & welcoming. They have a great variety of classes too, so far I've been to the candlelight & fun flow classes – both were great.
Lunch hour sting ray! We went out for a run on our lunch hour and took a break on a dock & were lucky to see this guy swim by.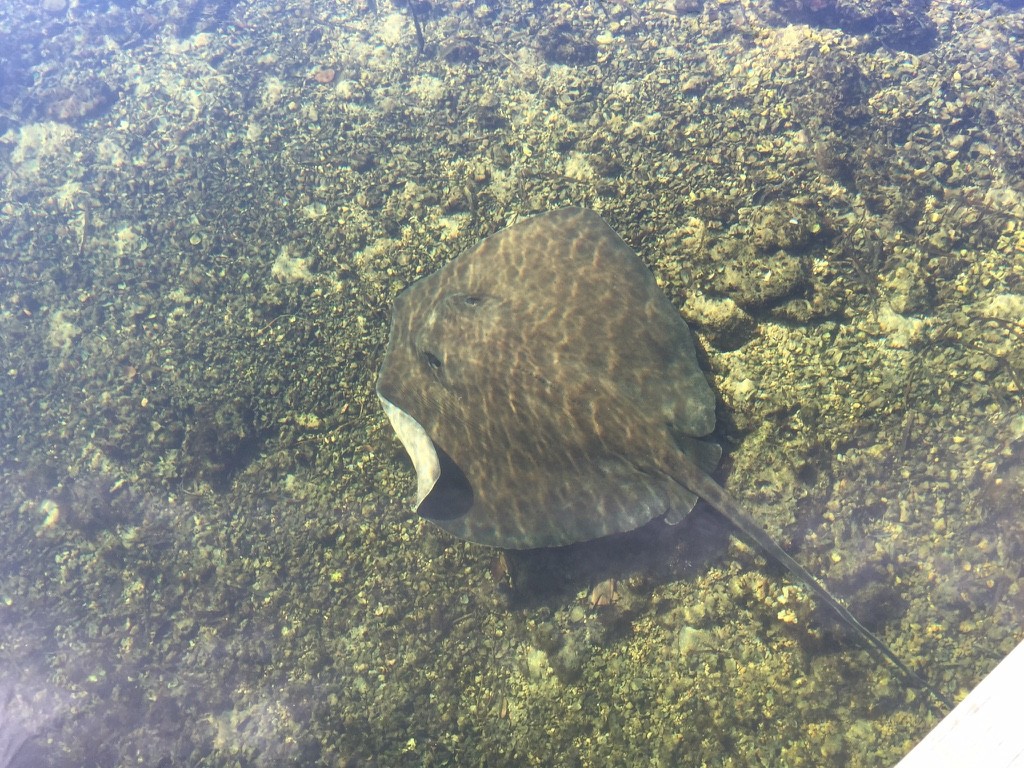 Despite the weather being rainy, we've self propelled ourselves over 45 miles in January and that doesn't count swimming or paddling. This is an easy place to be outside and active.
Founder's Park – in Islamorada. What a great park if you live on one of the islands that makes up the village of Islamorada. It's free for residents but $8 a person for everyone else. They have a very nice beach area, outdoor lap pool (extra charge) and a dog park. Our dogs definitely enjoyed themselves!
A downside:
Access to the water – sometimes I feel closed in here. I know that sounds strange being on a narrow island. Every road dead-ends on the water on both sides but you can't just walk down any street and look at the water. At the end of every street is a gated property blocking access and the view & the end result is a trapped feeling. This isn't a showstopper for us, a lot of neighborhoods have private parks with beach & picnic areas as well as boat ramps/kayak launches. If we get really lucky maybe we'll even find a place we can afford on the water.
We went paddle boarding yesterday in the mangroves behind our house and out to the ocean & it was awesome! It was everything I needed. I miss the state park near us back home and just being out on the trails surrounded by nature. I need that escape to recharge & I hadn't found it here until yesterday. Being inside the mangroves is so peaceful. Canals wind all through them and there's so much life to look at. The highlight from yesterday was definitely seeing a spotted eagle ray swim right by my board. We also saw a few southern sting rays, cormorants diving down, barracudas and an osprey in a nest. There are a lot of kingfishers out there too.
You can easily get lost in the mangroves & surrounding canal system. I think our next purchases will be a waterproof iPhone case so we can use Runkeeper to track our route while we paddle and a GoPro stick to get some underwater pics.
The Keys have only gotten better over the last two weeks. Let's see what the coming weeks bring.
Keys Rating after weeks 2 & 3 – 9 out of 10
Warm thoughts to all!