Key Largo – Paddling in Rock Harbor
If you're a nature lover visiting the Keys then a paddle in the mangroves is a must-do! There's so much to explore & the water is perfectly clear. I love to paddle into the mangrove tunnels, sit quietly on my board and wait for all of the life to slowly come back out. It's also very peaceful in there. I need to connect with nature on a regular basis to feel balanced & paddling in the Keys is one of the best ways to do that.
You can go by kayak, canoe or stand up paddle board – whatever you're comfortable with. We're in the upper Keys, Key Largo specifically and we paddle in the mangroves just north of the Island Grill. Just remember to keep track of where you are. There are a lot of little passageways that weave all through the mangroves that look very similar and it's easy to lose yourself in the moment and find yourself off-track.
If you go with a tour company they'll keep track of all of everything for you and you can just relax, enjoy the beautiful surroundings and check out all of the life in the mangroves. If you decide to go it alone, I listed everything you'll need to consider in this post.
What you might see:
In the 10 weeks we've spent paddling, here's a list of the most common creatures we've encountered. The slower you go the more you'll see:
Sea Life:
Nurse Sharks – we've seen at least one every time we've been out there. Look for them resting in the turtle grass or along the mangrove roots. Always a fun find!
Southern Sting Rays – we see these almost every time. Look for them in the sandier spots inside the mangrove tunnels and definitely in the ocean side flats bordering the mangroves.
Snook – look for these fish in the deeper areas inside the mangroves along the bottom.
Spotted Eagle Rays – so majestic & one of my favorites! These are a more rare find, we've seen 3 – all were in the ocean. The first one was in the deep canal right at the mouth of the ocean, the 2nd one (very small) over by the yacht club & the last one on our paddle to Rodriguez Key out in the blue. This one was easily 6 feet across. Just beautiful.
Barracuda – you'll find these throughout your paddle both in the mangroves and in the ocean. They like to be protected so look for them along the edges of the mangroves.
Sea Stars – look for them chilling on the bottom 🙂
Jellyfish – here's a creature you can't scare away! Haha. There are a lot of bottom dwelling varieties that live in the mangroves. I need to research their life cycle, we definitely saw them undergo a lot of transformation over our time there.
Horseshoe Crabs – you can find these anywhere along the bottom but we usually see them in more sandy areas. Here's a pic of a mating pair taken on the bay side.
Parrot Fish –  these guys are common & generally in groups. Watch for their turquoise flash as you paddle by.
Beautiful Underwater Topography – especially the ledge of the unfinished canal. This is a great spot to see parrot fish and lots of others taking cover along the edge.  The water is so clear in here it's just beautiful on a sunny day. Look for snook in the deeper areas.
Birds:
Cormorants – there's a lot for them to eat in here. I'd love to see one swimming underwater!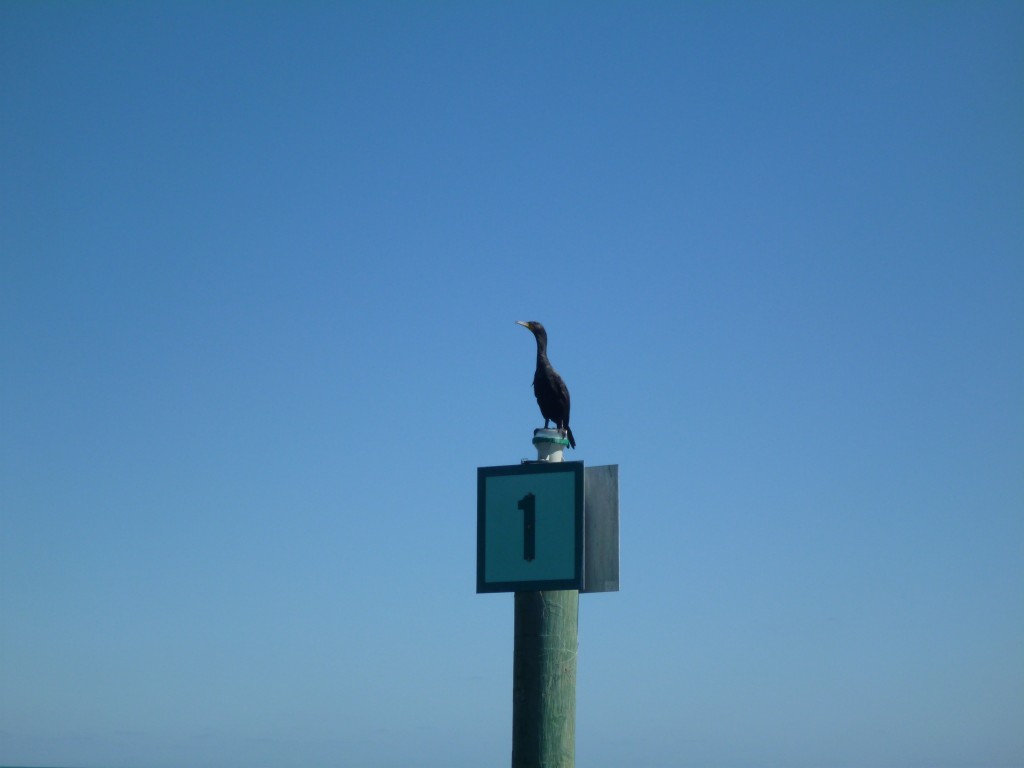 Ibis –  these guys are all over the Keys but I still love watching them.
Herons & Egrets – they are shy, go slow to get a good look at them. You can find them all over but especially wading in the ocean side flats.
Osprey – including one with a nest.
Pelicans – you'll find them fishing on the ocean side & hanging out near Dolphins Plus.

Kingfishers – generally shy and secretive. We've seen them every time out here. You'll find them in the mangroves  especially once you get inside them through the tunnels. There's plenty for them to eat and no shortage of hiding places.
Roseate Spoonbill – rare find! We saw one flying overhead once. They are pink so if you think you saw a flamingo fly by it was a roseate spoonbill.
Other Stuff:
In the canal system ….
Iguanas – look for them sunning themselves on the canal ledges. We haven't seen any in the mangroves. There's one house in particular they seem to congregate at which is where we took the pic below.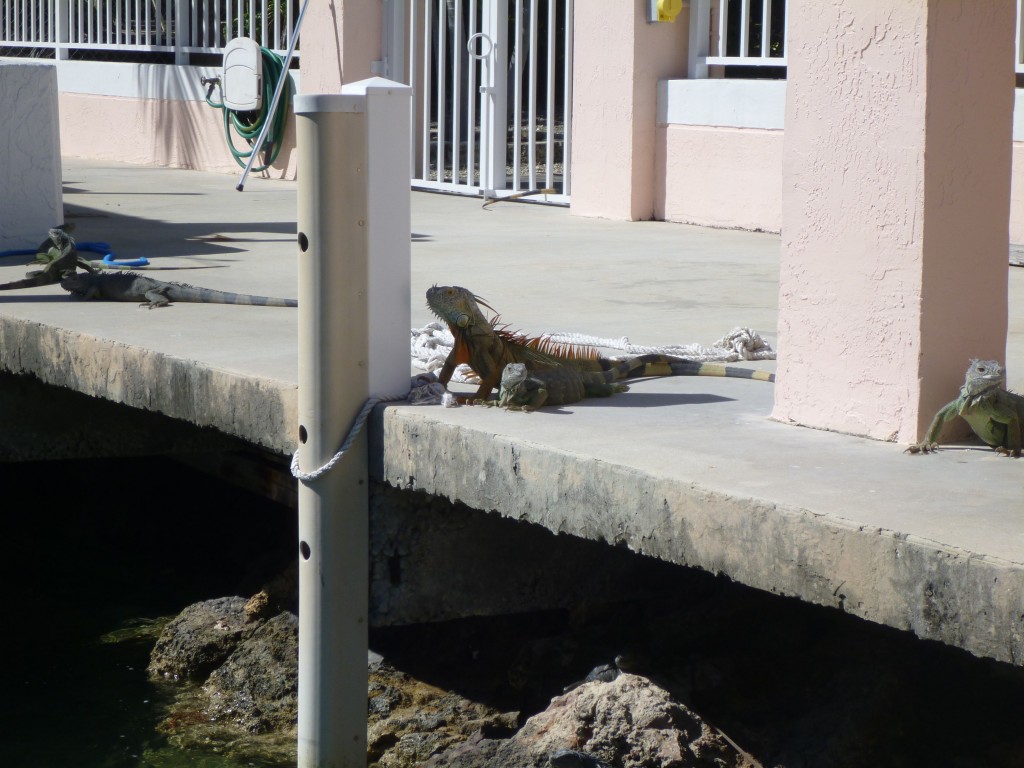 You'll find a lot of dead ends paddling the waterery roads that wind through the mangroves. Stop and sit quietly for a bit to see all the life come back out from their hiding places. Don't be afraid to check out the tighter spots!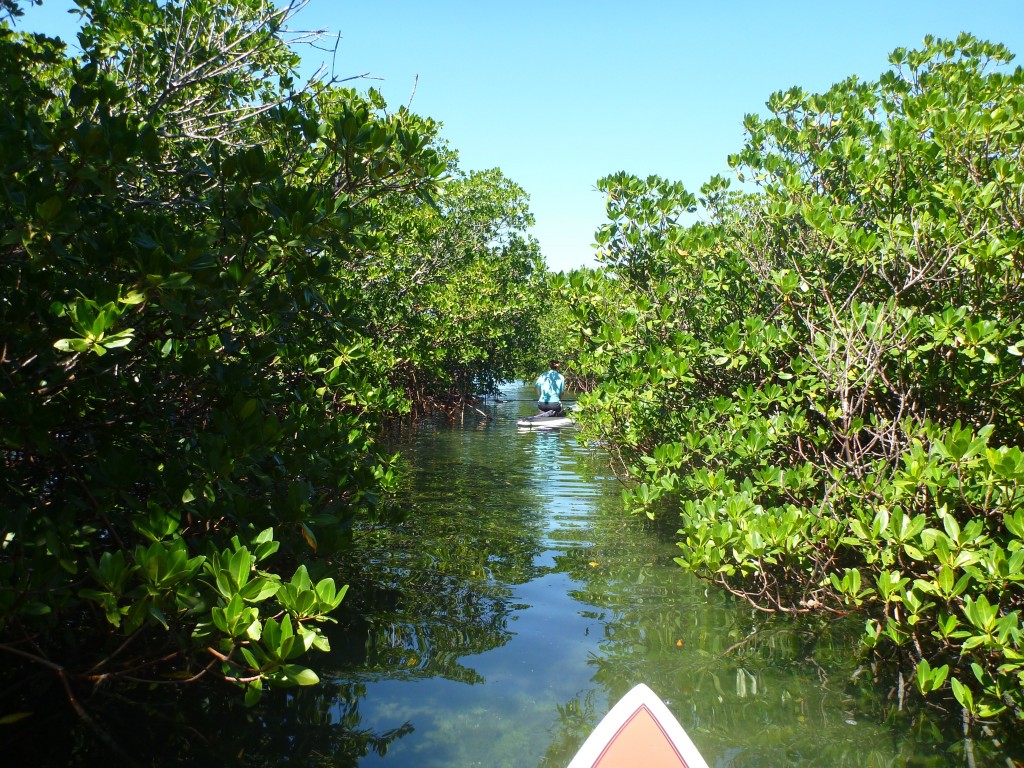 Where to launch from:
There's a public parking area and kayak launch where Caple Road meets West Canal Road. The launch is rocky and slippery so I'd recommend water shoes. We've been paddling in our hard soled dive booties. Full moons bring severe tides here. A full moon high tide floods this parking area – shin deep on me, so just consider how high off the ground your car is. A full moon low tide makes parts too shallow to paddle, you will get stuck out there waiting for the tide to come back in…trust me on this one, we learned the hard way.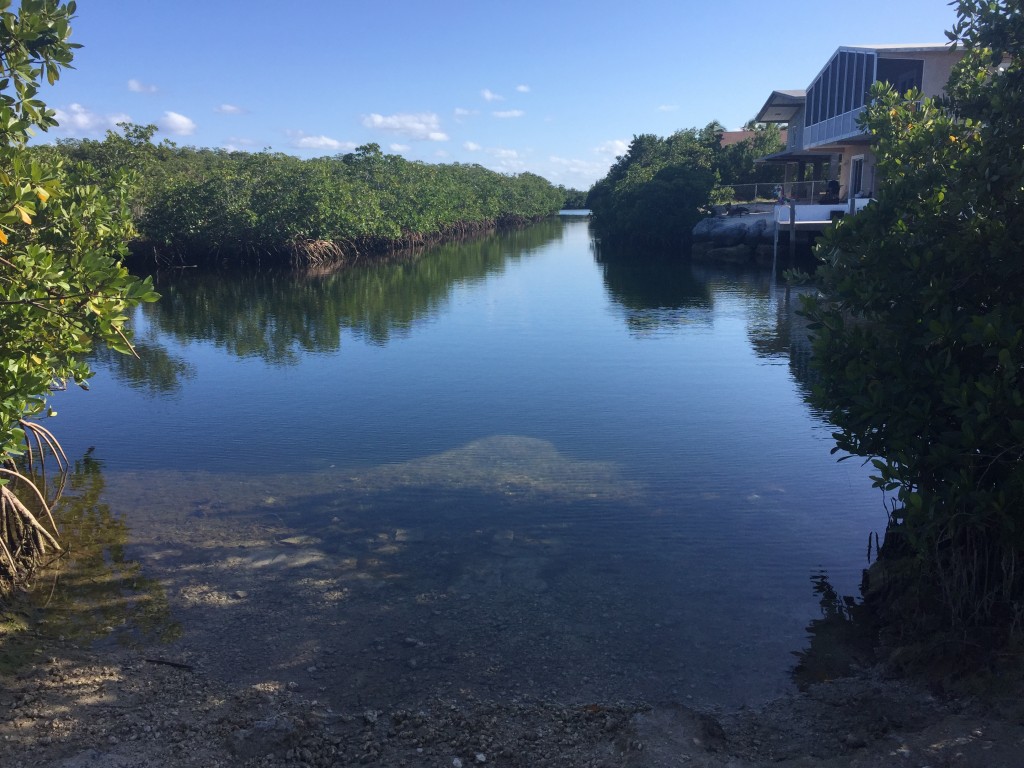 Down winder routes:
If winds are favorable you have two options to plan a down-winder from the Caple Road launch. Before attempting either route – check windfinder for wind, wave height & tides. You'll want to give yourself a couple of hours to do this depending on how fast you paddle and how much time you plan to spend relaxing and looking for life – which for us is a lot.
Option 1 – North to South: once you launch and paddle down the canal that joins to the open area, take a left — pay attention to this entrance & the house on the corner so you can find it on your way back. Follow the canal system past Dolphins Plus (I really hate seeing captive dolphins for the record)  but you'll get to see them playing from the canal. Keep following it under a small bridge (can have strong currents depending on the tide). Stay right to keep following the same canal. Take a right when it ends and you'll connect to the ocean. Head south with the houses on your right. You'll have to paddle out and around the yacht club's jetty. Once you do, head closer to the mangroves for smoother conditions and the chance to see rays & other neat fish. When you come to the mangrove entrance across from Rodriguez Key and just north of Island Grill (the bright yellow place), head into the mangroves. You can either take your time exploring the mangrove tunnels and open area or you can cross and hug the side that borders the houses till you come to the house bordering the canal where you launched.
Option 2 – South to North: do the opposite of the above 🙂 Take a right into the open area, follow it out to the ocean and paddle up the coast to the next public entrance .. follow it back by Dolphins Plus and back to the canal where you launched from.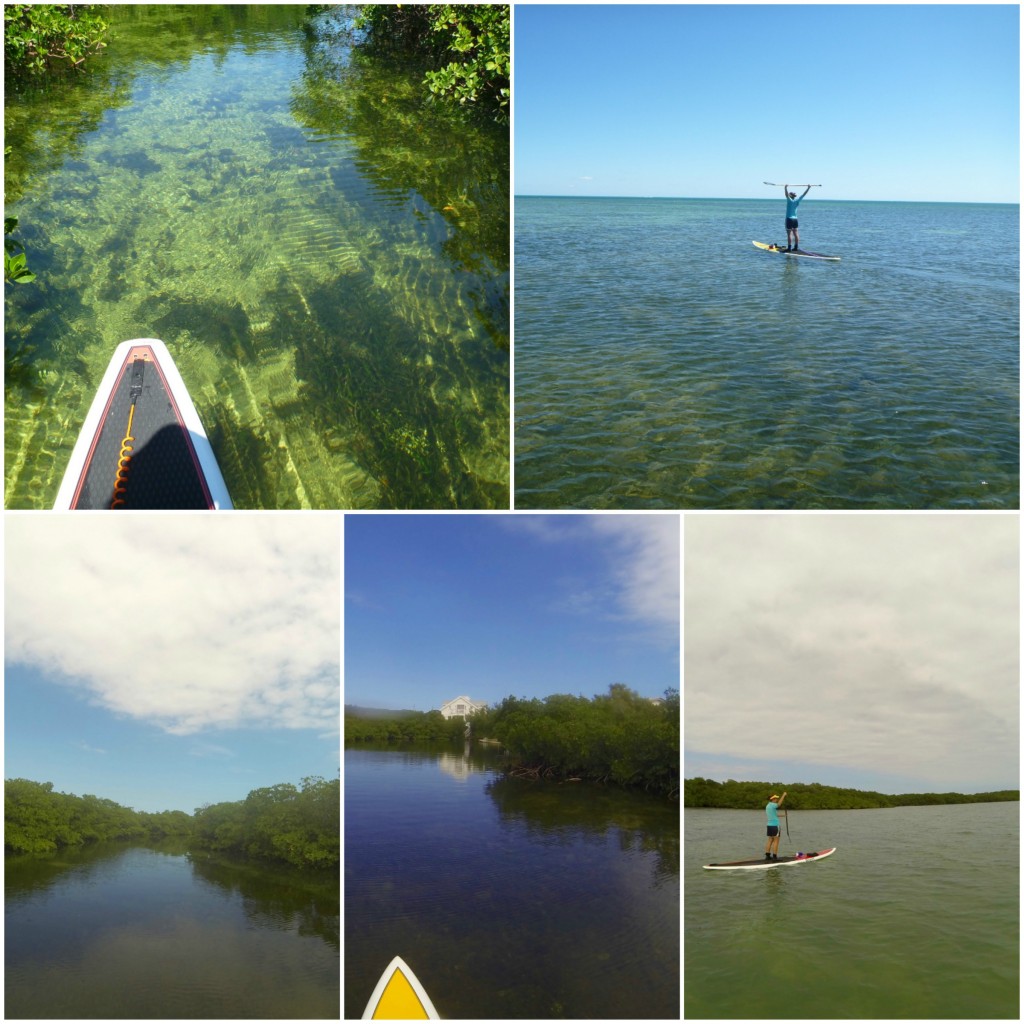 Tips for going on your own:
This post only applies to the mangroves just north of Island Grill – Mandalay. We paddled here for 10 weeks and never got bored. You never know what you're going to see! Safety first though, so here are our tips for planning a successful paddle.
Wear a hat or visor, rash guard (or lots of sunscreen), bring water and a maybe some bug spray. We've only paddled in the winter but were told by locals that summertime daily rains cause fresh water to pool inside the mangrove islands making it a great place for mosquitoes to breed.
Binoculars
Bring a GPS device if you have one. We don't, we just kept track of natural landmarks. There's a handy cell tower & we studied the area on Google Earth before heading out.
Tell someone where you're going and when you plan to be back.
If you're going to attempt going out in the ocean for an extended paddle (connecting canals, etc) – check the wind with a reliable source like Windfinder. Weather apps on your phone are notoriously off base with wind predictions.
Check the tides too (also on Windfinder). The lows can become un-navigable in the mangroves especially during full moons.
Choose the vessel that best matches your skill level. They call this area "rock harbor." The canals are cut out of dense rock and there are sharp, rocky ledges just under the surface. The rest of the bottom is coated in thick turtle grass & jellyfish. If you're not confident in your balance choose a kayak over a SUP. You don't want to fall in here. This isn't the place to try paddle boarding for the first time!
Enjoy your paddle!
Until next time …
Warm thoughts to all!