Cozumel – Review of Living Underwater
One of the biggest decisions you'll make in planning a dive trip is who to dive with. This one choice can make or break your trip. If you dive every day like we did you'll be spending a lot of time with your choice, 5-6 hours a day, so you really need to get this right. There are a ton of dive shops on Cozumel so how do you pick?
I thought I'd help take some of the guesswork out of it and tell you why we love diving with Living Underwater and would never consider diving with anyone else while in Cozumel!
What I love about diving with Living Underwater:
Valet Service – we were so spoiled! Especially coming from the keys where it's charter style (aka you lug your gear, set it up, switch it, rinse it, etc…). This was such a nice break! Jeremy came by our condo the afternoon before we started diving to grab our gear and give us an overview of the dive day schedule. The next morning they were right on time picking us up at our condo's pier with our gear assembled and ready to go. At the end of the day they rinsed it all and brought it back fresh and dry to start the next day.
Personal service & top notch crew – Luis & Ricardo are awesome! So fun & always there when you needed them. They helped everyone in/out of their gear and made sure everyone was comfortable. Towels were given out right after surfacing (so nice!) not to mention the boat coats should you get cold! I get cold easily and a few days I was a little chilled, no problem, I was handed a boat coat without even asking :).  At the end of the 2nd day and everyday after they brought me my favorite fizzy fruit soda. I remarked on the first day how much I liked them and there was a cold one waiting for me every day after. It just doesn't get better than this!
Great surface intervals – how does spending your surface interval at a tropical beach bar sound? Enjoy homemade guacamole, tacos, or just soak up some sun while you recount the first dive with your new buddies.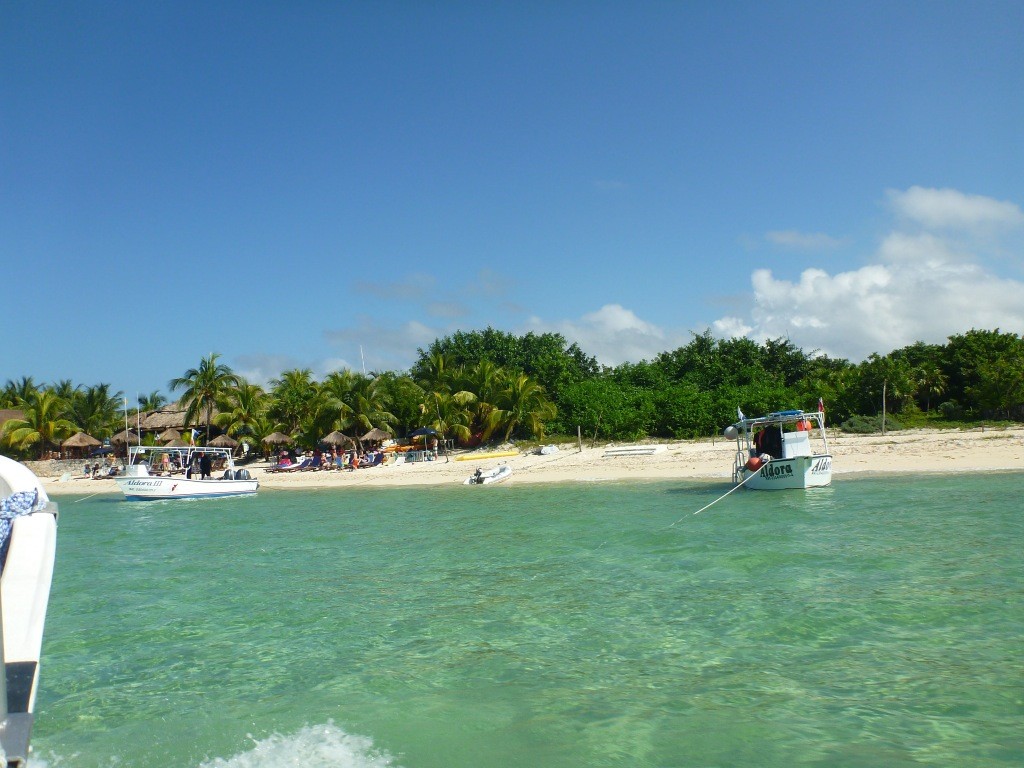 Small groups & fast boats – I think the maximum group is 6 divers but we never had more than 5.
Great snacks and drinks – fresh fruit (did you know lime juice is amazing on a papaya slice? Neither did we! Try it!), a variety of baked goods, all the water you can drink as well as juices and sodas.
Big Tanks & Long Dives – you paid a lot of money to come to Cozumel to dive so why wouldn't you go with a shop who dives big steel tanks? I had steel 95s all week and J had steel 120s. How do 80+ minute dives sound to you?
Pick your sites – as soon as everyone is on the boat Jeremy asks where everyone wants to go for the first dive. Don't worry if you don't know the sites, he'll give you a description of each option and everyone decides together. The second site is picked while hanging out on the beach during your surface interval. Jeremy will take you to advanced sites too once he's dove with you a couple of days and knows your skills. One day there were only 3 of us and we went to Devil's throat (a bucket list dive for Bill) and it was an amazing dive!
Lionfish Executioner!
And I'll bet you've never seen anyone kill a lionfish like Jeremy does! I think I'll stick with a spear for now!
I hope this post helped you in your trip planning! Have you dove with Jeremy & Living Underwater? Tell me about it in the comments!
Happy Bubbles!
Stay warm friends!