A whirlwind few weeks!
After a crazy few weeks we're settling into our new life in the Keys!  We've been here a week today although it feels like longer. I'm glad we spent the winter here. It doesn't feel like a strange place but more like a 2nd home… and it's actually home now (weird). Part of me still doesn't believe this is real & permanent but it definitely is – at least for the next year which is when our lease ends. It's going to take some time to sink in that we aren't going back.
It's hard to believe it's only been 2 months to the day since we listed our house. It was listed on May 10th and now on July 10th I'm sitting on our new balcony, listening to the palms rustle in the wind (one of my favorite sounds) and staring at our canal. I keep waiting for a manatee to come by but no luck yet. We also have green underwater fish lights that come on at night & we've been enjoying sitting on the dock at night, watching the fish and the stars. The dogs have been watching the fish too, especially our older one. Our new neighborhood is quiet and peaceful which I love. It's a nice change from our winter rental where we could hear US 1 and the Pilot House band from our house. The stars are brighter here too!
Overall, we both love our new house! It has pretty much everything we wanted. The main living space is open, we can paddle from our house (more on that soon!), it's quiet & the streets are very low traffic and great for walking the dogs. It's been too hot to take them more than a mile and we have to do that very early or after sunset. July & August are the hottest months here though so once the heat slacks off we'll take them on longer adventures.
The view from our dock … this will never get old. I start every day sitting on the dock now while I take the dogs out.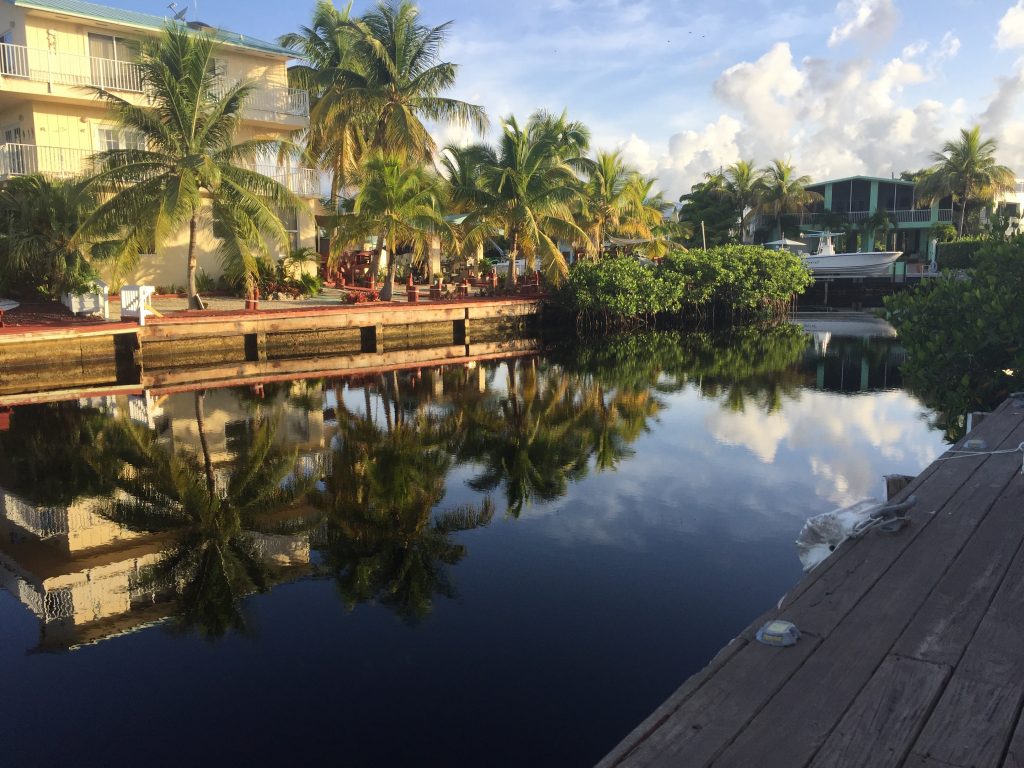 That's it for now. We're both still pretty worn out from the stress of the last 2 months and the long drive down. Be on the lookout for tons more about the Keys, our life here, the diving, nature, etc. We were out diving yesterday and it was gorgeous! We saw our first goliath grouper and it was even bigger than I imagined it would be. It stayed with us a while and swam a few loops around us. It's definitely awesome to have great diving so close to home!
Until next time…
Warm thoughts to all!