A Great Keys Week!
One of the things I love most about living in the Keys is how everything revolves around the water. Diving, paddling, snorkeling, boating or fishing – almost everyone here has something to do with the water. I also love being surrounded by like-minded people & the opportunity to get involved in so many diving related activities.
Project AWARE – Dive Against Debris
We had the opportunity to meet and dive with Hannah from the Project AWARE office in Australia. Hannah plays a major role in the Dive Against Debris project and it was an honor to share a couple of dives with her, clean up what we could find & hear all about Project AWARE and the far reaching success of the project. I was surprised to learn that all of their efforts are supported by only 12 full-time employees. It has the feel of a much larger organization due to their association with PADI but they need everyone's help for continued success.
I wish the conditions were better but the sea does what it wants and there were 7ft seas at the Duane, the shipwreck we were scheduled to clean so we ended up cleaning the outer area of the Molasses Reef sanctuary instead. The conditions there were challenging but better with 2-5 foot swells. The good news is that we found very little trash on the outer edge of the reef – our most found item was metal fishing leaders. The Duane still needs a good cleaning, it's covered in fishing line and hooks (wear gloves if you go), so we'll have to get out there next time if conditions allow.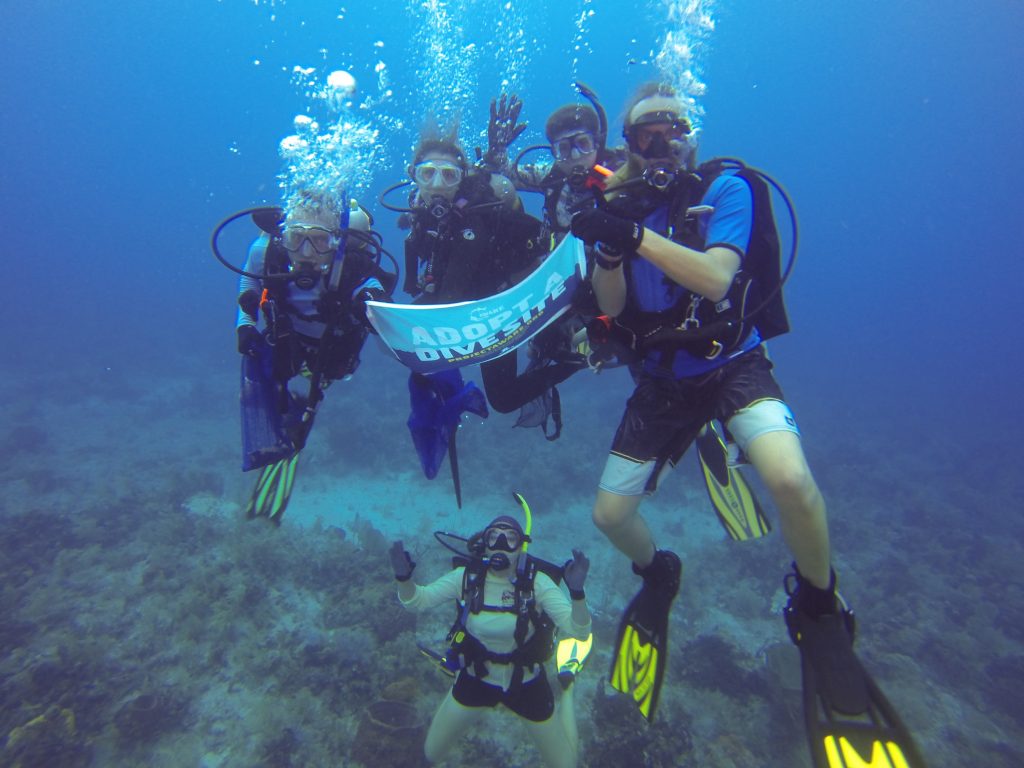 History of Diving Museum – Immerse Yourself Series
Immerse yourself is a great monthly series at the History of Diving Museum that features speakers on different topics. If you're coming down to visit I definitely recommend checking their calendar. Even if you miss the monthly series the museum is well worth a visit.
This month's speaker was none other than Richie Kohler! Richie is a historian, elite wreck diver & author and gave a presentation on his new book "The Last Olympian" about the sinking of the Britannic – Titanic's sister ship. I first read about Richie in Shadow Divers and he also makes an appearance in Deep Descent, both are great reads and not just for divers – history buffs will especially enjoy Shadow Divers. The event was absolutely packed & I can't wait to read the book and learn more about the sinking of Britannic. Too bad we had to work on Thursday and Friday, Richie was diving our local wrecks with two of the shops down here – I would have loved to dive with him!
Awesome Diving
We got out on two great dives this past weekend with calmer seas, tons of life & some rare sightings!
What we saw:
Eel & grouper hunting together and a fight! We were the first ones in the water on the first dive and immediately upon descent we saw a grouper and a green moray eel hunting together. This is really cool behavior to witness – google it and check it out. It's very rare in the animal kingdom for two species to work together.  While the eel was diving in and out of holes in the reef chasing fish out to the waiting grouper it surprised a spotted moray hiding out & they got into a little scuffle. The eel and grouper moved on to hunting around a different coral head.
Scorpion fish – these guys and gals are extremely well camouflaged making them a rare find.
Blenny eating something! – blennies are one of my favorites. They look like little bad asses with their giant eyes & they're also just plain adorable. While filming one yesterday peeking out of its hole we captured it eating something! I've never seen them eat anything – it came out and snapped up whatever it was very quickly and then went back in its hole to peek out and wait for more food to fly by.
Spotted eagle rays – it's always a treat to watch these gorgeous creatures fly by, not rare around here but they always make my day. One was missing its tail likely due to a run in with a shark but it seemed to be getting on just fine without it.
Of course we topped it off with another gorgeous Keys sunset!
I hope you had a great week where you are too!
That's it for this week! Next week we're heading to Fantasy Fest in Key West – should be a great time – I'll tell you all about it when we get back.
Warm thoughts to all!
Save
Save
Save
Save
Save
Save
Save
Save
Save
Save
Save
Save
Save